About the speaker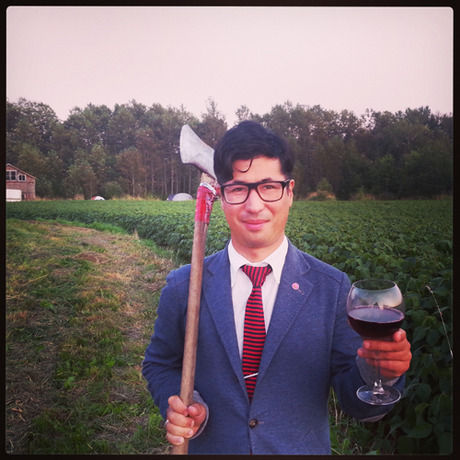 Nobu Adilman is a Toronto-based artist with many notable television, film and music credits. He is also a journalist, podcaster, and interactive web content creator.
Nobu is best known for co-creating and starring in Food Jammers, a cooking/gadget creation show that encourages people to fantasize instead of following a recipe. The show sold internationally. In 2006, Nobu also traveled across the U.S. in a short bus powered by vegetable oil to meet and interview innovators of green technology for Discovery Science USA's thirteen-part series, Invention Nation.
As an actor, Nobu gained considerable notoriety with a recurring role in Season Five of the hit Canadian TV comedy series Trailer Park Boys as one of the drug-dealing Flappy Bird Brothers Terry and Denis.
Nobu started out as a writer on Canadian episodic television (Emily of New Moon, Cold Squad), while also directing numerous no-budget short films that have screened at festivals and on TV around the world.
He has also co-hosted, with his brother Mio, a couple national Canadian TV shows (Smart Ask!, ZeD) and acted as a pop culture reporter (>Play).
In 2011, Nobu co-founded Choir! Choir! Choir!, a twice-weekly singing event that invites non-professional singers to belt out pop hits in bars across the city. The group has performed with punk legend Patti Smith, on the Juno Awards, and been covered by national and international media. In the late 90s, he co-founded and played in the Halifax rock band Rick Of The Skins (ROTS), and in the early 2000s, he released a solo album as Mister Nobu titled C'mon Wid Your C'mon.
His adventures in media has also led him to make a story-based podcast called Captain Eyeliner, an interactive web documentary for the National Film Board of Canada and Secret Location about how he is dealing with the recession , and Starting Over: The Legacy of Leslie and Clara Reitman, a fifteen-minute documentary that opened the TIFF Bell Lightbox in 2010. More recently, he was the Toronto editor of Eater, a celebrated food blog, and the Special Events Programmer for the Toronto International Film Festival 2014, an inaugural pedestrian promenade filled with art exhibits, a live music stage, and street performances.
Favorite quotes from this talk See all
"

I'm a professional amateur. — Nobu Adilman
"

Do what you love and do it with people who you love to be around. — Nobu Adilman
"

You can really break the world down into two types of people. Those who don't mind going through customs and those who do. — Nobu Adilman
"

If you follow your dreams, you will end up eating popsicles with David Suzuki — Nobu Adilman
"

I'm a champion of the ridiculous — Nobu Adilman
215

Lovely Attendees






see everyone