Nina Elizabeth Lyrispect Ball talks about Roots
About the speaker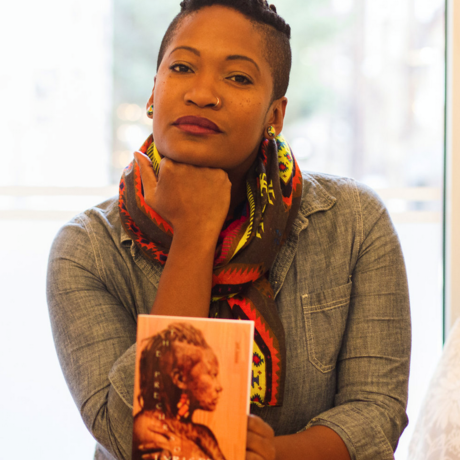 Nina Elizabeth Lyrispect Ball is an award-winning lyricist, author, activist, educator and voiceover artist whose work empowers, challenges and inspires through the compelling marriage of multiple art forms. Lyrispect is an activist and advocate for girls, women, people of color and marginalized communities.
What informs her performance and facilitation art: grit, pulchritude, justice, honesty, humor, love, inclusivity and cultural pride. She infuses in all of her work the belief that earnest art with intuitive, intelligent, intentional execution can heal, liberate and transform.
Lyrispect received classical theater training from Baltimore School for the Arts and specialize in voiceover, accents, education, performance and event curation. From India and the British Virgin Islands to North Philly. She is the author of The PreCursor, the first of seven installments of Spectrum of a Supernova, a multimedia series of signature work. She also rhymes. That's pretty cool.
She received her B.A. in Film and African-American Studies from Temple University and has been fortunate to create with and for organizations such as BLACK GIRLS ROCK!, Array Now, Lululemon, Barnes Foundation Opera Philadelphia and The NAACP. She has shared stages with Yassin Bey (Mos Def), Saul Willams, Ursula Rucker and a myriad of other supernovas in this brilliant multi-verse.
Favorite quotes from this talk See all
"

Integrity, consistency and a strong worth ethic can take you further than being connected. — Nina Elizabeth Lyrispect Ball
"

Everything evolves; step into your fullness. — Nina Elizabeth Lyrispect Ball
"

Associating your worth with winning is a set-up: what is meant for you will not pass you by. — Nina Elizabeth Lyrispect Ball
"

No matter how big you think you get, you're never too big to serve. — Nina Elizabeth Lyrispect Ball
"

The best recipes are unwritten: sometimes you have to get in the kitchen. — Nina Elizabeth Lyrispect Ball
107

Lovely Attendees




see everyone