Nina Lyrispect
January 31, 8:30am - 10:00am EST. Hosted at Center / Architecture + Design
part of a series on Roots
About the speaker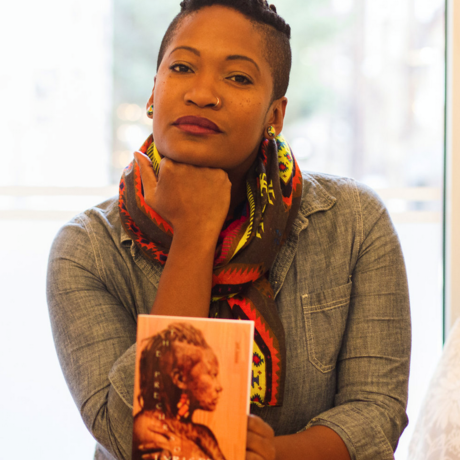 Lyrispect is an award-winning lyricist, author, activist, educator and voiceover artist whose work empowers, challenges and inspires through the compelling marriage of multiple art forms. She is an activist and advocate for girls, women, people of color and marginalized communities.
What informs her performance and facilitation art: grit, pulchritude, justice, honesty, humor, love, inclusivity and cultural pride. She infuses in all of her work the belief that earnest art with intuitive, intelligent, intentional execution can heal, liberate and transform.
Nina received classical theater training from Baltimore School for the Arts and specialize in voiceover, accents, education, performance and event curation. From India and the British Virgin Islands to North Philly. She is the author of The PreCursor, the first of seven installments of Spectrum of a Supernova, a multimedia series of signature work. She also rhymes. That's pretty cool.
She received her B.A. in Film and African-American Studies from Temple University and has been fortunate to create with and for organizations such as BLACK GIRLS ROCK!, Array Now, Lululemon, Barnes Foundation Opera Philadelphia and The NAACP. She has shared stages with Yassin Bey (Mos Def), Saul Willams, Ursula Rucker and a myriad of other supernovas in this brilliant multi-verse.
Local partners
Center / Architecture + Design // The Center provides Philadelphia with educational programs, exhibitions, and a public forum to explore architecture, urban planning, and design, allowing visitors the opportunity to understand how these disciplines affect us all in our daily lives. Using our city's distinctive breadth of architecture, pioneering urban design, and manufacturing heritage as the foundation for conversation, we educate the public through talks, exhibitions, publications, hands-on workshops, design competitions, festivals, and children's programming.
honeygrow is a fast-casual restaurant concept born in Philadelphia in 2012, specializing in wholesome, fully customizable stir-fries, salads, honeybars + cold pressed juices. honeygrow's mission is to connect with each community it calls "home," offering up amazing experiences through the lens of nourishing foods.
Counter Culture Coffee is dedicated to finding and bringing to market the most exciting and delicious coffees in the world. We approach our work with a passion for the ideal of coffee perfection, a dedication to real sustainability, and a commitment to cutting-edge education throughout the coffee chain.
Additional details
BYOMug! We're going green(er). We'll sweeten the deal, too. Anyone who brings a mug can win a free bag of coffee from our coffee sponsor! Bring a biz card to drop into the drawing (or we can write your name down on a piece of paper). If you forget, no worries; we've got mugs you can borrow or snazzy recyclable cups with our hashtag on them! #CMPHL
Location