Neda Sokolovska
March 31, 8:30am - 10:00am EEST. Hosted at In the Park
part of a series on Taboo
About the speaker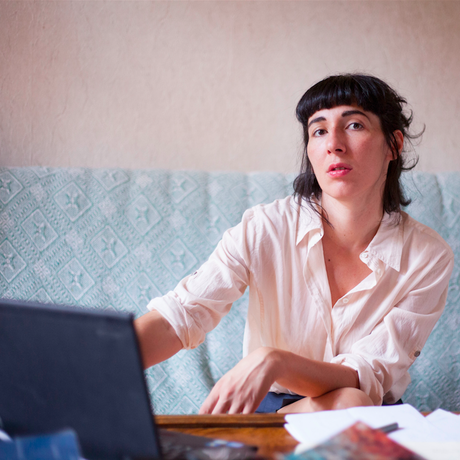 This month our breakfast meets us with the challenging topic of "taboo".
We invited Neda Sokolovska, an exceptionally brave and non-standard artist, founder of Studio for documentary theatre VOX POPULI, to share with us the 'verbatim technique' of acting, the reality as a theatre and the importance of listening.
The topic of the talk is "Taboo and stigmas of the 90s".
What are the topics from the years of the 'transition', which we find hard to talk about and prefer to keep silent? How does this period predefine the development of the current 30-40 year-olds the people who were back then teenagers? How does the verbatim theatre help us overcome the silence, to bring into the light the best kept secrets and to break the taboos?
Parts of the latest performance of VOX POPULI, called "Поколение Ь" will be shown on stage, as part of our discussion.
————————————————————————————– Neda Sokolovska is a theatre director, documentarist, founder of Studio for documentary theatre VOX POPULI. Since 2012 she has been developing the verbatim technique in Bulgarian theatre. She is the director of the plays "Mothers" (nominated for best play ASKEER 2013), "Яце форкаш" (IKAR 2013 award for screenplay), "Але хоп - по високо опънатата тел" (nominated for best technical performance IKAR 2014), "Установено при огледа", as well as the emblematic series "Invisible", which looks into the lives of marginal and "invisible" to society social groups. She also holds the award of the Ministry of Culture for significant accomplishments in Bulgarian culture.
Since 2016 she has been initiating the art documentary platform В/ХОД (Entrance), together with Centre for culture and debate Red House, which opens the territory for investigating the reality with the instrumentarium of art.
Local partners
Founded and headquartered in Sofia, Bulgaria SiteGround is one of the leading web hosting companies worldwide with more than 450 000 websites hosted on its servers. The company has been for 11 years on the market and today has more than 280 employees over 6 offices in Bulgaria and Spain. They believe that their success is rooted in their core philosophy in hand-crafting and building innovative and creative solutions to problems other hosts deem impossible. All their innovative technologies have been built in-house by a team of creative, passionate and excited team of professionals. With their support for Creative Mornings they want to further contribute to the development of the creative community in Bulgaria.
Location
Hosted at In the Park
Malkoto NDK, Boulevard "Bulgaria" 1, 1463 Sofia
Sofia, 1463
When March 31, 2017
8:30am - 10:00am