Naomi Washington-Leapheart
– Hosted at Online!!!
part of a series on Radical
About the speaker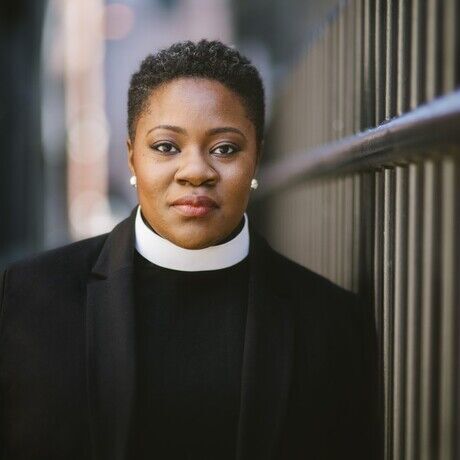 Reverend Naomi Washington-Leapheart, a daughter of Detroit, is the Director for Faith-Based and Interfaith Affairs for the city of Philadelphia]. In this role, she serves as a public facing leader, liaison, and subject matter expert for the Mayor's Office on local and national matters that impact diverse communities of faith. She also manages the Mayor's Commission on Faith-Based and Interfaith Affairs.
Last year, Naomi was named one of 9 LGBTQ Faith Leaders to Watch by the Center for American Progress and was included in The Root 100, an annual list of the nation's most influential African-Americans, ages 25-45.
Naomi is also an adjunct professor of Theology and Religious Studies at Villanova University, with joint affiliations with the University's Center for Peace and Justice Education and Africana Studies program. She also directs the Villanova Gospel Choir. In 2019, Naomi received the Pohlhaus-Stracciolini Award for Teaching Excellence, which recognizes an adjunct faculty member at Villanova who demonstrates a commitment to the life of the mind and to the well-being of students through teaching that is intellectually stimulating, challenging, and accessible, with efforts extending beyond the classroom.
Prior to working in city government, Naomi was the Faith Work Director for the National LGBTQ Task Force, the country's oldest national LGBTQ justice and equality group. In that role, she coordinated the Task Force's public faith messaging and advocacy and leadership development work in faith communities.
Before joining the Task Force, Naomi was a faith organizer for POWER Interfaith, a multi-faith, multi-racial network of congregations in Southeastern and Central Pennsylvania. She also served as Co-Pastor and Minister of Music at the Wisdom's Table at St. Peter's United Church of Christ. An ordained minister, she earned the Master of Divinity degree from Lancaster Theological Seminary in 2016 and is proudly affiliated with the Fellowship of Affirming Ministries.
Naomi delights in singing with the Philadelphia Threshold Singers, an all-volunteer choir whose mission is to bring audible comfort and kindness to the bedsides of people living in hospice care. Since 2016, she has been a member of the Faith and Spiritual Affairs Advisory Board of the Philadelphia Department of Behavioral Health and Disability Services. From 2017 to 2019, she served as a mayoral appointee to the city's Commission on LGBT Affairs. Naomi is currently a member of the board of directors of SIECUS: Sex Ed for Social Change, an organization that has served as the national voice for sex education for more than 50 years.
Naomi's work is included in the volume, From Generation to Generation: A Commemorative Collection of African American Millennial Sermons from the Festival of Preachers 2010-2015 (Chalice Press, 2015). Her writing can also be seen on Medium, Religion Dispatches, and Rewire.News. Naomi is a trainer for the Bridging Divides program at Auburn Seminary, and she regularly preaches and teaches in diverse congregations, national conferences, and religious and academic institutions around the country, including Vanderbilt University School of Divinity, Swarthmore College, Ithaca College, University of Pennsylvania, Princeton University, Wake Forest University School of Divinity, Chicago Theological Seminary, the American Academy of Religion, the United Church of Christ, the Christian Church (Disciples of Christ), and the International Council of Community Churches.
Naomi shares her life with her wife and their curious, energetic, future-Oscar-winning teenager.
Local partners
Described by POLITICO Magazine as "the coolest shipyard in America" and by Urban Land Institute as "one of the most successful office/industrial master-planned redevelopments in U.S. history," the Navy Yard is a 1,200-acre thriving waterfront community, with 7.5 million square feet of real estate in a mix of historic buildings and LEED® certified new construction oriented around world-class open space. More than $1 billion of public and private funding has been invested into the campus since the base closure, attracting over 150 companies employing more than 13,500 workers. At full build-out, the Navy Yard will support up 20 million square feet of development, 30,000 people, and over $3 billion of private investment. Get connected with the Navy Yard. Website: navyyard.org Facebook: @TheNavyYard Twitter: @navyyardphila Instagram: @navyyardphila
FS Investments helps investors design better portfolios. Our thoughtfully designed solutions combine differentiated strategies, top institutional managers and investment structures tailored to our investors' needs. We focus on setting industry standards for investor protection, education and transparency. Today we manage a growing suite of funds designed for financial advisors, individuals and institutions to achieve a variety of financial goals. Get connected with FS Investments. Website: www.fsinvestments.com Twitter: @fsinvestments
Additional details
See you online!
bit.ly/CMPHL_RADICAL
Join us for an online talk with Rev. Naomi Washington-Leapheart on this month's theme: RADICAL.
8:30 AM virtual room opens
9:00 AM Naomi Washington-Leapheart's Talk
9:30 AM Q&A
Grab a cup of coffee and see your favorite #CMPHL pals at the same scheduled time, but while at an acceptably social-distanced space like your couch, bed, or book-nook!
Location
Hosted at Online!!!
bit.ly/CMPHL_RADICAL
Philadelphia, PA United States
When
–