FACEBOOK LIVE: Naomi & Wanda Holopainen
August 28, 9:00am - 10:00am EEST. Hosted at helsinki_cm
part of a series on Insecure
About the speaker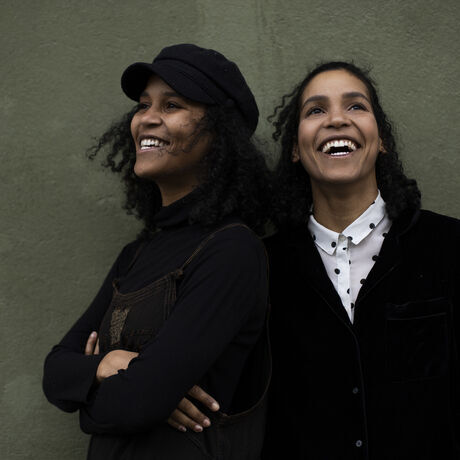 "There's a sense of freedom in an exposure. We're in a time where we are being called to revel – in the name of liberation for ourselves and others." - Rha Goddess
  Most of us feel insecure sometimes. The kind of childhood you had, past traumas, recent experiences of failure or rejection, loneliness, social anxiety, negative beliefs about yourself, perfectionism, or having a critical parent or partner can all contribute to insecurity. Storytellers Naomi and Wanda Holopainen invite you to embrace the power of finding the strength within your story. Finding your unique wisdom.    Wanda and Naomi are social entrepreneurs that are passionate about social psychology, sustainability, and much more. They are currently running their family business, ATAA, focus on social responsibility in the context of marketing and branding. ATAÁ supports those in the transition to sustainability and those interested in impact-driven branding and social inclusion. 
These two curious minds aim to redefine the role of marketing. To drive and make societal level changes by empowering the collective identities and people as individuals through business operations and authentic communication. Because the narrative has to change significantly to really engage audiences, receptive or not, via brand and marketing strategies.
Picture by Helka Miettunen
Local partners
Creative community. Efficient Networking. Business Club.
Design Club helps companies to rebuild and create new business opportunities through design. We build bridges between companies. From the world of design we bring creative thinking to customer relationship management.
Helsinki-based designer, who turned into a food blogger / eating designer / baker and finally found the meaning of life by cooking, baking and eating together.
Tea from the top of the world. Théhuone is a fresh, Scandinavian and customer-centered teashop where we wish to serve our clients well, answer all their important questions and find them right tea for each occasion. The teas on our shelves have earned their places. We are constantly looking for new and interesting tea varieties to treat your taste buds.
Additional details
We will celebrate our 6th birthday this friday and do join in our Facebook Live at our Facebook page @creativemornings/helsinki
Note: Talk is going to be interactive, so please be ready with notebook and pen.
Location
Hosted at helsinki_cm
Helsinki
Helsinki, Finland
When August 28, 2020
9:00am - 10:00am