Milota Sidorová
August 30, 8:30am - 10:00am CEST. Hosted at Goethe Institut
part of a series on Justice
About the speaker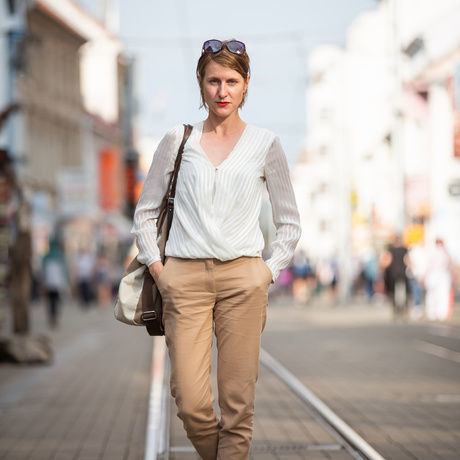 A Fair Shared City
This month's lecture will focus on the examination of architecture and urban planning in terms of gender. This allows for uncovering problems of inequality and negligence in urban development. In her lecture, Milota will present the practical examples of gender-sensitive design and planning, the mobility of care in cities abroad, and the possible solutions to the improvement in the quality of Czech and Slovakian urban planning.
Milota acquired her Ph.D. diploma in landscape architecture and she concentrates on urban development in an interdisciplinary context. She is a member of the international festival of urban development, reSITE. During the years of 2013 – 2014, she completed the Fulbright Scholarship program at the City University of New York. In 2015, Milota founded the WPS Prague platform, which supports a fair representation of women in architecture and urban development and focuses on gender-sensitive urban planning. She is also an expert on public spaces, participation, and planning in terms of politics.
As an adviser and researcher of urban inclusion, Milota co-operates with many national and international partners such as the Prague Institute of Planning and Development, Heinrich Böll Foundation, Goethe Institute, Marko & Placemakers, CSO Punkt or Green Foundation. She is a co-author and the main contributor of the EU project Shared Cities: Creative Momentum, which secured co-funding of the project Vivid Square – SNP Square Revitalization.
Local partners
Queens.cz is a Czech streetwear & sneakers shop. For over 15 years they have been introducing trends and inspiration to the local market and looking for brands with stories behind them.
Creative and strategic PR consultancy agency. The Hero & Outlaw brand has been established right after joining the McCann Prague ecosystem in 2018. But even earlier we recognized that our capabilities, ascertained in mutual collaboration on various projects, complement each other thanks to a great diversity of knowledge, experience and brain power.
Additional details
The talk will be in Czech. We meet at 8:30, start the talk at 9:00, followed by the questions from the audience. At 10 latest, you are free to go.
Location
Hosted at Goethe Institut
Masarykovo nábř. 32
Prague, Czech Republic
When August 30, 2019
8:30am - 10:00am