Mille Obel Høier
– Hosted at Godsbanen
part of a series on Education
About the speaker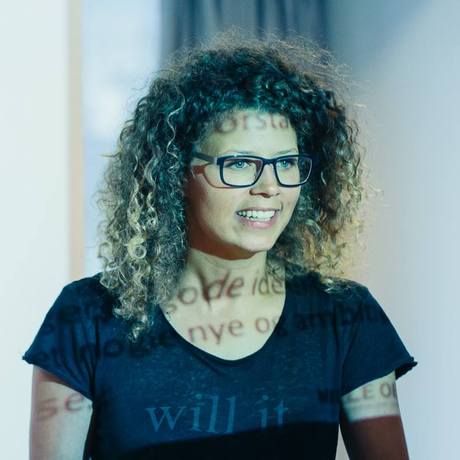 Mille er uddannet KaosPilot i 2009 med særligt fokus på ledelse, innovation, strategi og organisationsudvikling. Mille er, sammen med Carsten Borup, initiativtager og projektleder på KKX – en ny kreativ og kulturel ungdomsuddannelse. Igennem de sidste snart fire år har de arbejdet på at udvikle uddannelsen og skabe opbakning til realiseringen og godkendelsen af uddannelsen.
Om KKX skriver Mille: Danmark har brug for en ny ungdomsuddannelse, der kan komplementere ungdomsuddannelses tilbuddet og være med til at styrke Danmark som kreativ nation. Målet med KKX er at skabe en ny permanent kreativ og kulturel ungdomsuddannelse i DK, og Uddannelsen tænkes ind som det 3. ben i den erhvervsgymnasiale lovgivning. KKX målrettes kreative og kulturinteresserede unge (16-19år), der er nysgerrige og ønsker at arbejde ambitiøst med kreativitet, kunst og kultur på et højt fagligt niveau. KKX er en studieforberedende gymnasial ungdomsuddannelse og skal ses som de kreative industriers "studentereksamen" og er et bud på at skabe en sammenhængende fødekæde, der leder hen til de kreative erhverv og videregående uddannelser.
Local partners
GODSBANEN IS A NEWLY ESTABLISHED CENTRE FOR CULTURAL PRODUCTION IN AARHUS.
With open workshops, studios, project rooms, theatre stages, auditoriums, dance halls and much more, Godsbanen provides every opportunity; whether you want to stage a week long theatre festival, practice your dance moves or perhaps host a meeting.
If you don't have any interest in culture at all, you are also very welcome. We have an excellent and very affordable café/restaurant, which is open for everybody at all hours, and our roof has open access and provides an amazing view.
The buildings used to host one of Denmark's largest train freight yards, and the old buildings are renovated with respect for their history and are worth a visit in themselves.
Location
Hosted at Godsbanen
Skovgaardsgade 3-5
Aarhus, Denmark 8000
When
–