Michelle Rocqet
October 11, 8:30am - 10:00am MDT. Hosted at Art Gym Denver
part of a series on Flow
About the speaker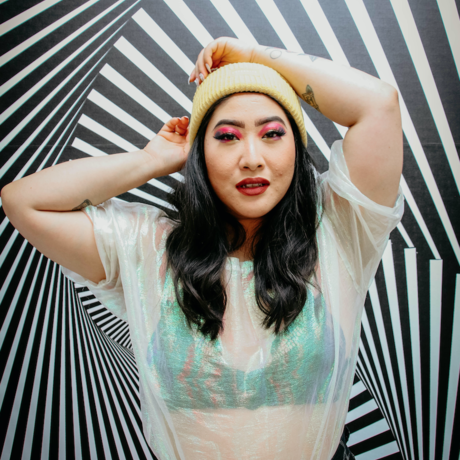 "Michelle Rocqet, the multi-talented, beat-boxing soul artist who performs with The Milk Blossoms, is a genuine force of kindness in a scene that can be rife with hyper-competitive petty bores. She models another way of building a music community: one that is based in generosity, hard work and a willingness to lend a hand when it's needed. Whether she's playing a benefit show for a nonprofit or working with young people at Youth on Record, she brings a sense of humor and humility to all that she does, and does so damned well."–Kyle Harris for Westword's "Five of the Greatest People in Denver's Music Scene".
Photo credit: Stephanie Mathena
Local partners
Ogilvy has been producing iconic, culture-changing marketing campaigns since the day its founder David Ogilvy opened up shop in 1948. Today, Ogilvy is an award-winning integrated creative network that makes brands matter for Fortune Global 500 companies as well as local businesses across 131 offices in 83 countries. The company creates experiences, design and communications that shape every aspect of a brand's needs through six core capabilities: Brand Strategy, Advertising, Customer Engagement and Commerce, PR and Influence, Digital Transformation, and Partnerships.
Flatiron School helps people from all backgrounds to launch their career in UX/UI Design, Software Engineering, or Data Science. We're outcomes focused - 97% of graduates in our most recent Outcomes Report landed jobs, and we also offer a Money-Back Guarantee. For anyone that's new to coding, start learning today with Flatiron's free online course which includes 75+ hours of HTML, CSS, Javascript, and Ruby lessons.
Ad Club Colorado provides career-boosting and fun networking events through regular social gatherings. Something about Colorado draws flocks of artists, musicians, innovators, and people with plenty of creative bones in their creative bodies. Come be with the over 400 members of our group who are the guiding force for advertising today, tomorrow, and beyond.
Additional details
For some, music is a weapon. For Michelle, it is mechanism for healing. As a Vocalist, Beatboxer, Songwriter, Producer, Educator, Creative Director, and member of experimental pop band, The Milk Blossoms, she uses her platform to bridge differences through visceral truth-telling and radical self acceptance. She has had the great honor of sharing the stage with some of her personal heroes including: Cocorosie, Michelle Obama, The Swingle Singers, and Ezra Furman. Based out of Denver, Colorado, Michelle does not suffer fools and is slightly lactose intolerant.
Location
Hosted at Art Gym Denver
1460 Leyden St
Denver, Colorado United States 80220
When October 11, 2019
8:30am - 10:00am