What's the deal with humans? Why do we all want to be the same?
Meg Lewis, founder of Ghostly Ferns & This Is Foolproof, talks about self-image, learning to love yourself, making happy work, knowing your life's purpose, and not caring what others think. Video by Provid Films | Photos By Rebecca Studios
About the speaker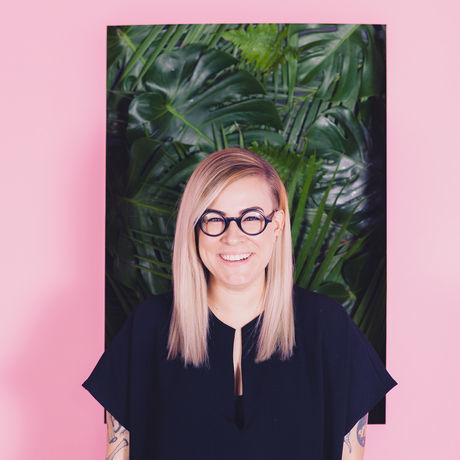 Meg Lewis is a designer creating experiences for happy companies and a one-on-one educator creating happier lives for humans of all kinds. Meg is the founder of Ghostly Ferns, a collective of designers & commercial artists and is the co-founder of Fool Proof, a shared workspace for creativity & collaboration in Minneapolis. She specializes in creating emotional connections between businesses and their audiences by adding personality to their brand. Meg is also a sought-after speaker and educator, traveling the world to present at conferences and private events on personal brand, defining a purpose, and living an authentic life. Follow Meg on Instagram and Twitter at @darngooood.
Favorite quotes from this talk See all
"

The things that are unusual about you are what make you special. — Meg Lewis
"

What are five things I want to stop doing on social media from now on? 1. Caring what others think of me. 2. Posting before I enjoy the real-life experience. 3. Only showing the shiny, perfect parts of my life. 4. Only showing what's emotionally easier. 5. Only showing what's faster to create. — Meg Lewis
"

What are five things I want to start doing on social media from now on? 1. Be as goofy as possible. 2. Create a safe space for others to share and be themselves. 3. Represent all aspects of my life. 4. Challenge audience with thoughtful exercises and essays. 5. Cheer on and support others I admire. — Meg Lewis
"

I like to walk with a purpose, to go do something, like walk to get nachos. — Meg Lewis
"

Five things I want to stop doing in real life: 1. Avoiding small moments when I could help others. 2. Looking at my phone so often that it affects my relationships. 3. Hurting people I love. 4. Feeling responsible for everyone's happiness. 5. Doing things that trigger my anxiety. — Meg Lewis
Photos from this talk See all
navigateleft
navigateright
327

Lovely Attendees






see everyone