Virtual
What are Virtual FieldTrips?
FieldTrips are meetups to interact, learn and collaborate in an effort to level-up your creative life. Built on top of our 20,000 monthly attendees at CreativeMornings talks, FieldTrips are community-organized events built on the spirit of generosity that has powered CreativeMornings events for the past 10 years.
Thanks for participating! We're lucky to have you.
Masterclass on Drawing Moroccan Geometric Patterns with VAWAA
–
About this FieldTrip
Join us for this 90-minute Masterclass with Vacation with An Artist (VAWAA) and traditional craftsman Hamza, live from Fes, Morocco. We'll learn about Moroccan geometric patterns found in Fes's historic Mosques, Madrasas, Zawiyas, and royal palaces; all from the 9th century to the late 19th century. Using basic geometric instruments like a compass and ruler, we'll learn how to draw a pattern from the Hassania Fountain (mid 19th century).
To top it off, the session will end with a special 10-minute performance of Moroccan Andalusian oud music by Hamza himself! There will be plenty of time to ask questions, draw together and share.
There is no prior experience required – the only requirement is love for travel, Morocco, learning something new, and having fun! :)
Materials: A geometry compass, pencil, ruler, paper (A4 or A3), eraser, sharpener, and coloring pencils/ watercolors (optional).
About your Host Vacation With An Artist (VAWAA) is a platform to book mini-apprenticeships with remarkable artists and makers around the world – from bamboo bicycle making in India and shoemaking in Czechia to natural textile dyeing in Vietnam.
Hamza is an Andalusian Oud musician, a geometer, brass-smith, bookbinder, paper-marbler, and founder of a crafts studio dedicated to Moroccan arts and crafts in Fes. He comes from a multigenerational family of artisans and passing on crafts knowledge is a family culture. He apprenticed under his father and traveled around 15 countries crafting and learning from masters. Now his mission is to continue this legacy and help people around the world connect with old Moroccan crafts. His traditional art revolves around the art of Compass & Ruler. With those two instruments, he draws and traces Moorish and Islamic geometric patterns, etches and engraves them on brass and copper trays and embosses them on leather book covers.
Local partners
Google is proud to support FieldTrips at CreativeMornings. At Google Design, we produce original articles and videos, host events, and champion creative and educational partnerships, with the goal of supporting and inspiring the UX community. Follow us on Twitter and Instagram to learn more.
Organizer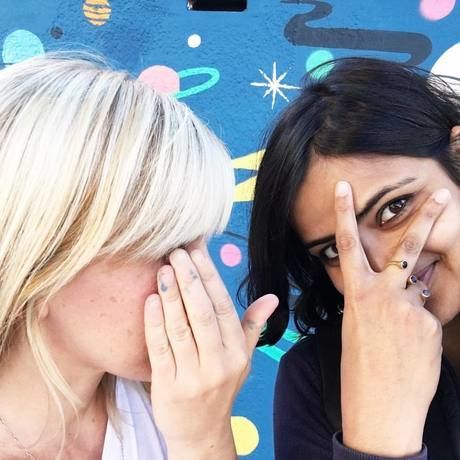 Geetika Agrawal
Hosted at This is a virtual event, you will receive a link to attend in your registration email
When
–