When it comes to homelessness everyone's story is different. A story of just taking the next step.
Printing positive change with Printed By Us. 'We run screen printing workshops for people in Sheffield who may have experienced homelessness and other complex issues. collaborate with local artists to create unique artwork, then: We hand screen print artwork. We sell the prints. We run more workshops.'
About the speaker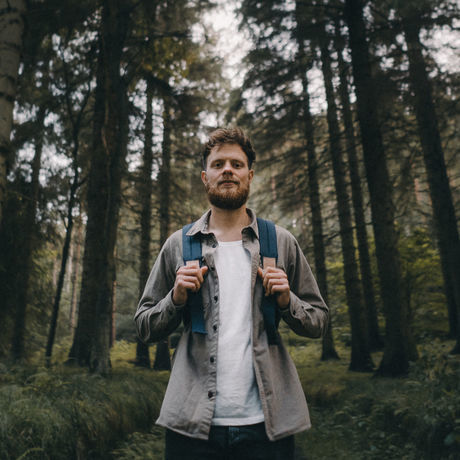 Mark Musgrave link is a freelance designer & doer. He is the founder of ethical adventure apparel brand 'The Level Collective' link and Mark's most recent endeavour is being the guy behind 'Printed By Us' link.
Printed By Us link run screen printing workshops for vulnerable people in Sheffield who may have experienced homelessness or other complex issues and who want to learn new skills and move towards employment. They create artwork in collaboration with some of Sheffield's finest designers and then hand screen print artwork, sell the prints, then run more workshops. Printed By us has a positive impact on the mental health and wellbeing for those involved, and is run by people who have overcome challenging circumstances themselves and carries the line: 'Designed by Sheffield Artists, Printed By Us'.
'Printed By us was a side project that I explored with a few friends in my spare time. It started from a desire to use creativity and enterprise to make a positive difference in the lives of vulnerable people who have experienced homelessness and other complex issues.
I wanted to do something that had a longer term impact than just providing food and was about helping people to move forward but I didn't want to make assumptions, I needed to understand different people's challenges. When first exploring the different challenges faced by homeless and vulnerable it was just so overwhelming how complex the issues are and how everyone's story is completely different. There is no simple answer or fix. I spent a lot of time speaking with people who are homeless or had experienced homelessness, as well as different people who work with homeless people. One consistent theme from my research was this desire for people to be involved in something, to volunteer, to contribute, to feel purposeful and useful.
The idea pivoted a lot and was so enriched by involving other people, I had to carry it with open hands and allow it to change. I used to work for Yoomee as Creative Producer where they gave us investment time for ideas for good. I used this time with my colleagues, including Rich Wells, to explore the idea more and from that concept Printed By us was born: Work with creatives in Sheffield to make beautiful artwork, then teach vulnerable how to screen print these designs. Sell the prints, run more workshops. A really enriching part of the project has been about bringing the people of Sheffield together to make a positive difference. I've been so encouraged by the various different amazing creatives in Sheffield who have been so up for creating a design and helping the project to happen. Tom Newell, Ian Anderson, Laura Knight, Sarah Abott and Rich Wells to name but a few.
So we've got the project off the ground, have run 4 workshops now and it's working. The people involved are growing in confidence from being a part of the project and doing something creative. James has learned how to hand screen print and now boshes them out, packs the orders, has communications with the shops that stock them. He is a real part of starting a new business.'
Mark's humble sum up of how he creates goes as follows: 'Everything I do starts of as a terrible drawing from me. Then I find artists who's work I love and work with them to make something beautiful. I don't call myself an artist because I can't draw for toffee. But I do have a good idea of what I'm aiming for and I get a lot of energy from collaborating with others to create something beautiful.' We think this a beauty and invite you to come and hear more about it.
As a total bonus James and Terry from Printed By Us will be live printing a specially created design for the morning. We are in the post industrial gallery setting that is our dear friends 99 Mary Street, and will be fuelled by Ink & Water coffee. Bring your wallets as La Bibliotek will have a pop up stall of superb print in forms of book and magazines and there may well be some prints for sale too. Set the alarm and see you there.
Favorite quotes from this talk See all
"

Hope trumps despair. — Mark Musgrave
"

...I came away from from it just feeling quite heavy, just realizing it's such a big thing. I was hoping to basically bottom homelessness and solve it within the meal but it turn's out it's actually a bit more complicated than that. — Mark Musgrave
"

Say hello to people. It sounds daft, but that actually does really make a difference. — Mark Musgrave
"

...The chances are if they love what they do they'd love to do what they love to do for something good. — Mark Musgrave
"

Hope trumps despair — Mark Musgrave
added by
penny lee
Photos from this talk See all
navigateleft
navigateright
42

Lovely Attendees







see everyone