Maitreyi Roy
September 29, 8:30am - 10:00am EDT. Hosted at Center / Architecture + Design
part of a series on Compassion
About the speaker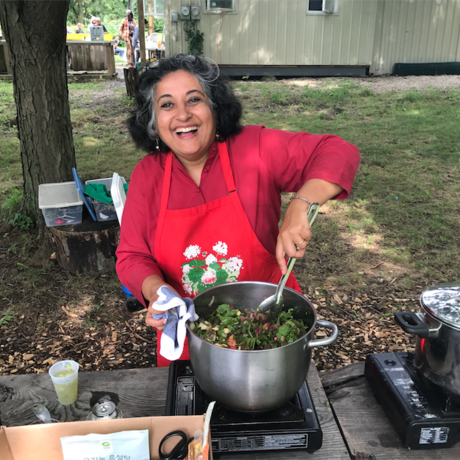 Maitreyi Roy serves as Executive Director for Bartram's Garden, home of famed 18th century botanist John Bartram (1699-1777). Bartram's Garden is a legendary landscape that inspires audiences of all ages to care for the natural world. John Bartram was a Quaker farmer with a lifelong curiosity about plants that over time made him America's first great botanist and his garden a hub of international plant knowledge and sharing in the 18th century. Today the 45- acre Garden is a National Historic Landmark on the banks of the Schuylkill River operated by the John Bartram Association in cooperation with the City of Philadelphia. In partnership with the board and the staff, Maitreyi leads the restoration and transformation of Bartram's Garden as a historic and cultural asset as well as a green space resource for the Philadelphia region, advancing an ambitious three-year strategic action plan that sets the stage for a robust future and a vision that inspires visitors through active use and meaningful experiences.
Before joining Bartram's Garden, Maitreyi served as senior vice president for programs at the Pennsylvania Horticultural Society (PHS), overseeing its nationally recognized urban greening program, Philadelphia Green; its education programs; and publications. She provided leadership and oversight for program direction, funding strategies, and partnership and staff development.
Maitreyi has also served as a landscape architect with the Boston Parks & Recreation Department to plan and implement a citywide capital investment initiative focusing on revitalizing and restoring neighborhood parks across the city.
As a 2007 Eisenhower Fellow, Maitreyi traveled to urban centers in Spain, Germany, Belgium, France, and Ireland to study best practices in urban open space policies, planning standards, and landscape design. She examined sustainable development strategies, successful open space revitalization models, and public/private partnerships that support open space infrastructure.
Trained as an architect in India, Maitreyi's interest in open space issues took her to the School of Design at Harvard University where she earned a master's degree in Landscape Architecture in 1988. As a landscape architect, Maitreyi focused on community-based design and has been involved in the creation and preservation of green space throughout her career.
Local partners
Philly Fair Trade Roasters specializes in small-batch organic 100% Arabica coffee, roasted on a daily basis for maximum freshness. Our artisanal coffee can be found at select Philadelphia area cafes, premier restaurants, and farmers markets.
The Yard provides private office and coworking space in NYC, Philadelphia, Boston and Washington, D.C. Memberships include 24/7 access to beautiful, custom spaces: shared desks, conference rooms, private offices, and lounge space.
Need a workspace that provides you with more balance to get work done and grow your business?
Work Right at The Yard.
Location