Lutz Engelke
April 28, 8:30am - 10:00am CEST. Hosted at Immersive Showroom Berlin im Brandenburger Tor Museum
part of a series on Beyond
About the speaker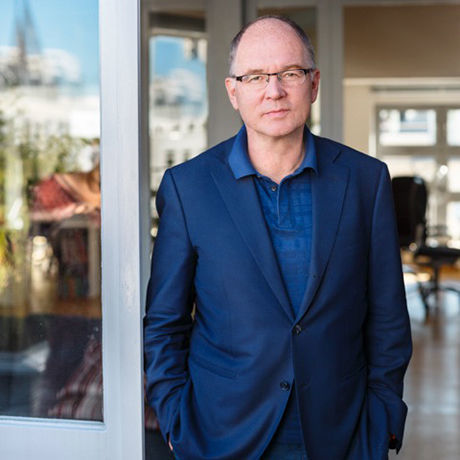 Lutz Engelke, founder of TRIAD Berlin, traverses the border between science and art. An Alumnus of both Freie Universität Berlin and Cornell University New York, his academic studies in literature, psychology, film, and journalism equip him with a strong multi-disciplinary perspective. With offices in Berlin and Shanghai the company is bringing together over 200 employees from 47 professions, different age groups and cultural backgrounds, TRIAD Berlin has been producing award-winning designs and inspiring conceptual experiences since its inception in 1994. Among these projects are national and international benchmarks, such as Brandenburg Gate Museum in Berlin, German Soccer Museum in Dortmund, Siemens Exhibition Stand at the Hannover Trade Fair, FIFA World Football Museum and currently organization of the 12 "Future Energy" Forums at the EXPO-2017 in Astana, Kazakhstan. Lutz Engelke is honorary professor at FH Potsdam Department of Design, cofounder of the CREATE BERLIN Initiative, member of Art Director's Club Germany as well as cofounder and partner of DENKBANK. His motto "Dare to imagine more" represents the maxim that drives the team at TRIAD Berlin.
Local partners
Monotype offers a wide range of typefaces, tools, and technologies that help users and OEMs bring type to life. The ultimate goal of Monotype products and services is to ensure that clients can use type to the fullest, preserving its high quality and aesthetic value on screen, paper and Web.
Shutterstock, Inc., Berlin's breakfast sponsor and Global Partner for Visual Inspiration, is a leading provider of high-quality photographs, vectors, illustrations, videos, and music. Working with a community of over 100,000 contributors, Shutterstock currently has more than 70 million images in its collection. Special gift: 20% off all standard image and video licenses to the CreativeMornings community shutterstock.com/creativemornings
Additional details
Beyond Creativity
Lutz Engelke's talk is an excursion into the complex world of story telling beyond creativity, an encounter of thinkable and feasible, imagination and reality. It's an invitation to talk about the kinship between creativity, dissolution of boundaries and order systems.
Location