Lutz Engelke
April 28, 8:30am - 10:00am CEST. Hosted at Immersive Showroom Berlin im Brandenburger Tor Museum
part of a series on Beyond
About the speaker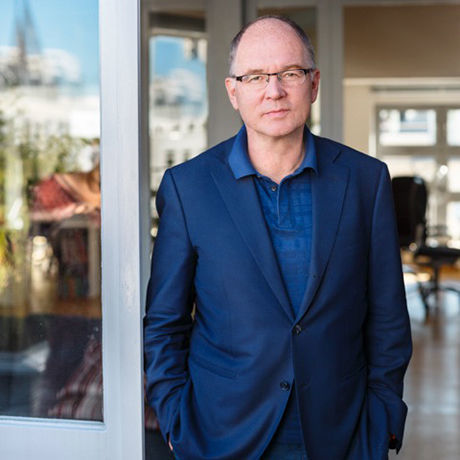 Lutz Engelke ist Gründer und Geschäftsführer der TRIAD Berlin Projektgesellschaft mbH, die er 1994 gründet. Er nennt seine Firma einen Think & Do Tank. Mit Büros in Berlin und Shanghai bündelt er das fachliche und kreative Know-how von 200 Menschen mit 47 Berufen und erschließt dabei weltweit neues Terrain im Grenzgebiet zwischen Wissenschaft, Kultur und Wirtschaft.
Zu den zahlreichen nationalen wie internationalen Projekten, an denen Lutz Engelke arbeitet, gehören neben dem Brandenburger Tor Museum in Berlin, dem Deutschen Fußballmuseum in Dortmund, das FIFA World Football Museum in Zürich, der Siemens Messestand in Hannover auch die Vorbereitung der 12 zentralen Foren über die 'Zukunft der Energie' auf der Weltausstellung in Astana im Sommer 2017.
Lutz Engelkes wissenschaftlicher Hintergrund sind Studien der Literaturwissenschaften, Psychologie, Publizistik und Filmwissenschaften an der FU Berlin und der Cornell University in den USA. Er ist Professor im Fachbereich Design der FH Potsdam, Mitbegründer der Initiative CREATE BERLIN sowie der DENKBANK. Neben anderen sind die Mitgliedschaften im Art Director's Club Deutschland (ADC) sowie im Mittelstandsbeirats beim Bundesministerium für Wirtschaft und Energie hervorzuheben.
Sein Credo: Mehr Fantasie wagen!
Local partners
Monotype offers a wide range of typefaces, tools, and technologies that help users and OEMs bring type to life. The ultimate goal of Monotype products and services is to ensure that clients can use type to the fullest, preserving its high quality and aesthetic value on screen, paper and Web.
Shutterstock, Inc., Berlin's breakfast sponsor and Global Partner for Visual Inspiration, is a leading provider of high-quality photographs, vectors, illustrations, videos, and music. Working with a community of over 100,000 contributors, Shutterstock currently has more than 70 million images in its collection. Special gift: 20% off all standard image and video licenses to the CreativeMornings community shutterstock.com/creativemornings
Location