Lois Volta
– Hosted at Online!!!
part of a series on Biophilia
About the speaker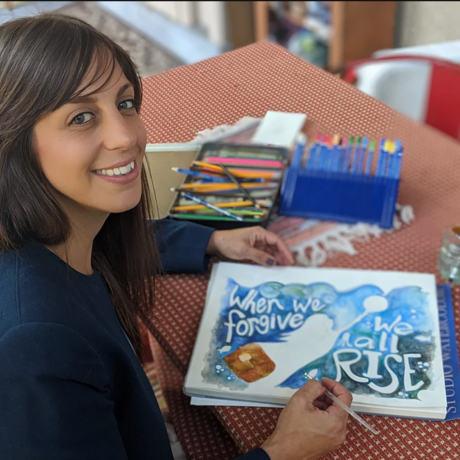 WE ALL WANT THE SAME THING:
A SAFE, SACRED, LOVING PLACE TO LIVE.
When I first started my cleaning business, I was a newly single mother with $40 in the bank account and no career. Oof. Needless to say, I used my mastery of being a stay-at-home-mom (10,000 hours, right?) to take care of people's homes. What started as a small, one-woman operation turned into a full-blown, eco-friendly, in-house-made cleaning products line, complete home organization and boutique deep cleaning company, and a 15 woman strong operation.
Through the course of learning how to be a boss, run a business, and keep my family afloat, I took a great interest in gender equality within the home and how our culture still looks down its nose at stereotypical "woman's work". I wrote a ZINE (which you can purchase- very raw, very original), that turned into an advice column for GRID MAGAZINE and a then feminist talk radio show out of GTOWN RADIO.
When the coronavirus hit, Jessica Sabo (my much appreciated, loved, and worshiped business partner who joined forces with me in Jan 2020) and I realized that having an online platform to do our work was, strangely, invigorating.
We walk our clients through the hard work of home and self-exploration, decluttering, and having an emotionally healthy approach to daily living. We celebrate our clients tangible and very evident success. Having this new online platform has been far more rewarding than what I thought could be imaginable for my career! I have my dream job and I am working with the creme de la creme of insanely talented women- who have changed my life in the deepest of ways.
The most important thing that I have learned through my decade of working in domestics is that we are not alone. Everyone struggles with mess, from clutter in the house to complicated emotional knots. Some messes seem too difficult to clean up, and some knots feel too hard to untangle, but now I know this to be true: we just need help sometimes. I know this because of the support I have received from the people in my life who have walked with me me on this journey to build this very business. That includes every one of my first cleaning clients–before whose toilet I kneeled–, all the way to you.
Now is the time to share the beautiful lessons we have gleaned along this difficult road, to uplift, and to revolt.
Local partners
Additional details
Join us for an online talk with Lois Volta on this month's theme: BIOPHILIA.
8:30 AM virtual room opens
9:00 AM Lois Volta's Talk
9:30 AM Q&A
Grab a cup of coffee and see your favorite #CMPHL pals at the same scheduled time, but while at an acceptably social-distanced space like your couch, bed, or book-nook!
Location
Hosted at Online!!!
bit.ly/CMPHL_RADICAL
Philadelphia, PA United States
When
–