[Virtual] Lianne 'Crazylegs' Parry
June 26, 8:30am - 10:00am BST. Hosted at Virtual
part of a series on Insecure
About the speaker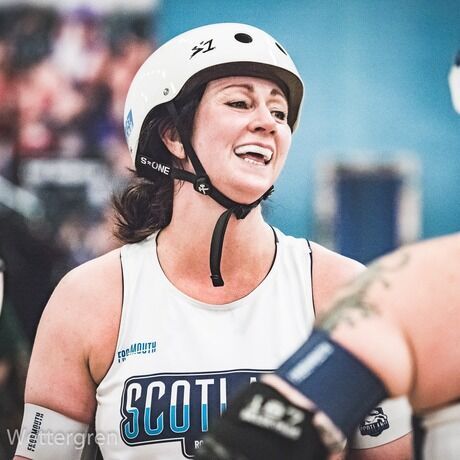 Roller Derby: Daring to do sports differently
Since learning to roller skate at the age of 34 with the inception of Auld Reekie Roller Derby, Lianne 'Crazylegs' Parry transformed into an unlikely amateur athlete over the following 12 years and is still skating today. Competing with Auld Reekie's All Star team in tournaments across Europe, the US and Canada, Lianne also played for Team Scotland Roller Derby at three World Cups - Toronto 2011, Dallas 2014 and Manchester UK 2018.
After taking on many roles for her Edinburgh based club, including Director, Captain and Coach, Lianne became interested in exploring the global growth of the sport, and helped with the formation of the UK Roller Derby Association before becoming a European Representative for the Roller Derby Nations Committee.
In 2019, Lianne joined the Board of Directors for the International Governing Body of Roller Derby - the Women's Flat Track Derby Association (WFTDA) and is currently working to help steer this DIY, global competitive sport through a worldwide pandemic and to be truly revolutionary as it grows and changes.
Professionally, Lianne is 'Head of Heritage' at Heart of Midlothian Football Club, where she works to preserve and make accessible the rich history of the Club, through tours, education and exhibitions.
Lianne's talk explores the value in daring to be different - sharing how Roller Derby's core values that build strength, resilience and confidence through community can be applied well beyond the track and help us break down our own insecurities and dare to be ourselves
Headshot by Anje Wettergren
Local partners
FreeAgent is award-winning online accounting software that's designed for the way small businesses work. More than 90,000 freelancers and small business owners use FreeAgent every day to track time against projects, raise invoices, file tax returns and just get on with the work they love - not the paperwork.
Additional details
Hey CmFam - We are going virtual again this month!
We're going to be broadcasting live via Zoom this month starting at 8:30am.
Similar to the in-person gatherings, this is a ticketed event so make sure to sign up to avoid disappointment and don't be late as we will be "locking" the zoom room before the talks start so as to keep the event secure. For the best possible experience, attendees will be muted and we appreciate video cameras to be on so we can see your beautiful smiles ✨
YOU WILL BE SENT THE ZOOM LINK THE EVENING BEFORE VIA THE EMAIL YOU CREATED YOUR CREATIVEMORNINGS ACCOUNT WITH
If you have not yet, please download and install Zoom now to the device of your choice. Don't worry, Zoom accounts are free.
So grab the best seat in the house, your beverage of choice and we'll see you online!
Zoom Etiquette 👩‍💻to keep our event secure a secret zoom link and password will be emailed to you the evening before the event ⚠️Please do not share this link on social media - zoombombing is real 💁‍♂️it's a networking event so please have your video on - or worse case a real photo of your face - blank screens will, unfortunately, be regarded as suspicious and be removed from the event ⏰don't be late, we will lock the zoom room 10 minutes after the start at 8:30am
Thanks for understanding, we've got an epic event planned for you but security online first!
Location
Hosted at Virtual
Online
Edinburgh, Scotland United Kingdom EH530AH
When June 26, 2020
8:30am - 10:00am