Lettering Workshop with Robin Abbey
– Hosted at Coburg House
About the speaker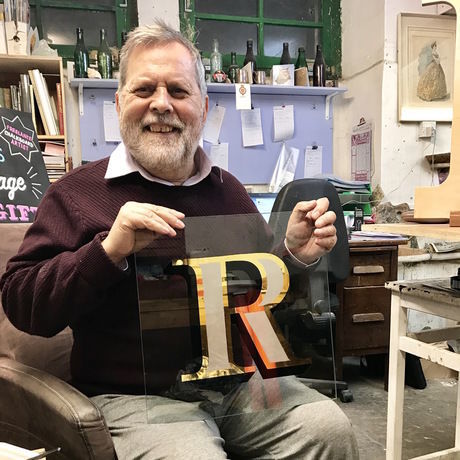 Because fonts are the best, we've organised a lettering workshop with the lovely Robin Abbey, a traditional signwriter based in Edinburgh. From 10AM till 4PM, take a deep dive into "Lettering Proper" with this true master of the craft.
Workshop agenda: After a short introduction to Robin's work, we'll practice drawing some roman letters before moving on to the technique of using the brush to produce painted letters in the traditional way, all garnished with useful anecdotes as we go along. Robin emphasises "that no-one will come out of it a signwriter, but will have an appreciation of the practicalities of this little-known craft." We cannot wait!
As the workshop will include one to one time with Robin, the spaces are limited to 8 participants. The cost for the full day is £50.00 and includes all materials and a light lunch.
A little about Robin:
I was born into a farming family in Dorset in 1948. Ever since I can remember, I have been interested in all forms of lettering. I would copy the headlines from the paper, and whilst still at school in Bridgwater, Somerset, I painted a placard, which read 'Farm Workers demand £7 now' for the annual Martyrs rally at Tolpuddle. I went on to grammar school, and Somerset College of Art, gaining a City & Guilds in typographic design. All my working life I have been involved with printing or lettering of some kind. I was fortunate to have mentoring from Bev Blackmore of Bridgwater whose father and grandfather had been involved in lettering and engraving. A series of unhappy accidents cast me up on Edinburgh's shores, but I decided to stay and make my living as a signwriter here, and I hope I have been instrumental in keeping the craft alive in this area.
Additional details
This is an all day workshop (not a morning lecture). The £50.00 includes materials and a light lunch. Please purchase your space here to secure your spot: https://event.bookitbee.com/11062/lettering-workshop-with-robin-abbey
Location
Hosted at Coburg House
15 Coburg Street
Edinburgh, Scotland United Kingdom EH6 6ET
When
–