Kushandari Arfanidewi
– Hosted at Conclave Wijaya
part of a series on Action
About the speaker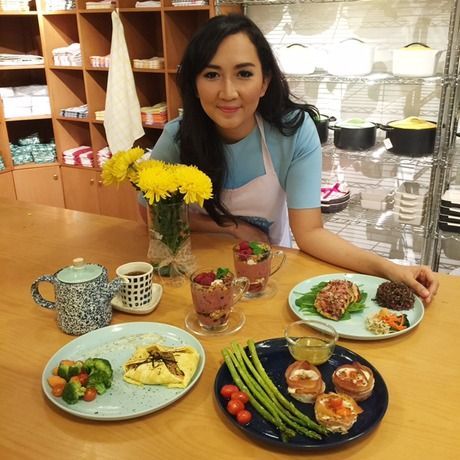 Kushandari Arfanidewi, nicknamed Ayi, plunged into healthy food industry on February 2014. Known though her instagram account @kelincitertidur, Ayi who was once a property consultant became one of jakarta's passionate cook and is actively engaging in social media, especially instagram. Although her first love were architecture and music, but her passion in cooking and her concern about healthy food has brought her into culinary industry by her famous hashtag (which is later became her catering name) : #ayshealthyascanbe. Ayi's vision is to provide healthy food in a creative and fun way! She aims to make healthy living that will not be as scary and boring, but rather makes everyone happy. She argued that being healthy is as easy as ABC 123.
Ayi grew up in built architecture environment and once trying to understand the architecture of music along the way, then now she found herself tangled in the architecture of taste while learning about holistic health system. All this time, people have no idea at all about her journey of finding peace and freedom for her soul to create. Her life was, and still is, full of experiments and risks. Her Mom always tell that Ayi is an artist in the making of her creation. Not an architect. Not even chef, nor a businesswoman.
She's also a good storyteller.
This week, Ayi will story-tells her ACTION in her first decade of finding her true potentials and her struggle to create with her passion.
Local partners
Location
Hosted at Conclave Wijaya
Jl. Wijaya I No. 5C, Petogogan, Kebayoran Baru
Jakarta, DKI Jakarta Indonesia 12170
When
–