Josh Hanagarne
August 30, 8:30am - 10:00am MDT. Hosted at Industrious
part of a series on Justice
About the speaker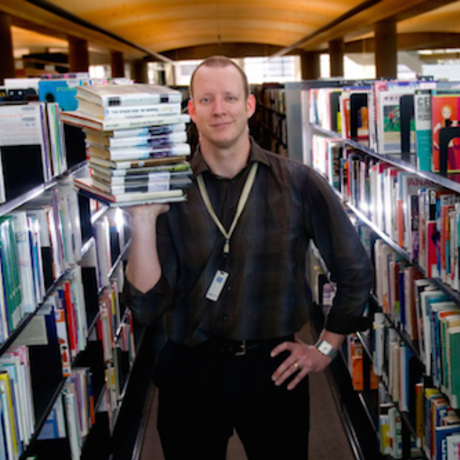 If you were headed to the Main Library and I told you to seek out "The World's Strongest Librarian" for help, you'd have no trouble finding him even with such vague and quest-like directions. He challenges the archetype of the "knowledgeably meek" librarian and you can't miss him. Standing tall at 6'7" this strongman looks more like a badly disguised super hero than a beehived "shush!-er".
Also, for the sake of time, you could just ask the information desk for Josh Hanagarne, our local Librarian and Non-Fiction Selector (buyer) and Author of the bestselling book "The World's Strongest Librarian" which was published by Penguin Random House/Gotham books in 2013 and received rave reviews in The New Yorker, O Magazine, The Boston Globe, People, Parade, and many others.
Despite having an extreme case of Tourette Syndrome, Hanagarne is an Author, Speaker, Performing Strongman, and Librarian at Salt Lake's Main Public Library. For him, having Tourette's and dealing with the tics is like having an all-day walking case of the sneezes that you constantly have to repress. Having to manage his disability in creative ways eventually led to a blog, a blog found by Seth Godin (Author, Entrepreneur, and former dot com Business Exec), which led to said blog becoming a book. …Which also led to a speaking engagement at the Mark Twain House in Hartford CT, which led to arm wrestling famous author, Stephen King. That last part being important because "I let him win, but he knows the score.".
There's comfort in the idea that we make sense of our lives through shared stories. For Josh, growing up as a book worm, erudite in his curiosity, and well versed (though some better read than spoken) in eight languages, the importance of the use and transference of ideas through language comes to the forefront when speaking on our theme of "Justice" this month.
Josh describes Librarians as the "ultimate generalists" who have an overwhelming access to knowledge, and as so, can make complicated topics or ideas seem simple when summarized. Without a sense of self awareness about our own limiting biases, discussing a topic like "Justice" can't be done unless we acknowledge that language itself frames the definition of "Justice" for each person differently. Justice is about fairness but we all have different ideas about what "fair" is and unless we look at the impact of writing, language, listening, and the value of temporarily empathizing with someone else's ideas in relation to our own - we can't even begin to have a discussion about Justice at all.
As described by our CreativeMornings Bratislava chapter,
"Justice is restorative when empathetic and innovative solutions are brought to the forefront. Through generous listening, we all hold the ability for form moments where people can feel safe, strong, and at ease."
We look forward to having this unlikely hero speak, on the last Friday of this month, August 30th, on the breezy and gorgeous rooftop of Industrious downtown. On his off time, Guardian of Knowledge and former mormon, Josh practices Brazilian Jiu Jitsu, plays guitar, croons to his piano "Lady Leviathan", and is the proud father of 11 year old Max.
See you soon!
Additional details
This month's event will be hosted on ~ the rooftop ~ of Industrious, downtown Salt Lake City. It's beautiful in the morning and the morning sun gives us a glow behind the surrounding buildings. Yay! Can't wait!
Location
Hosted at Industrious
10 West Broadway, Suite 700
Salt Lake City, Utah United States 84101
When August 30, 2019
8:30am - 10:00am