John Fluevog
November 3, 8:30am - 10:00am PDT. Hosted at SFU Woodward's — Goldcorp Centre for the Arts
part of a series on Death
About the speaker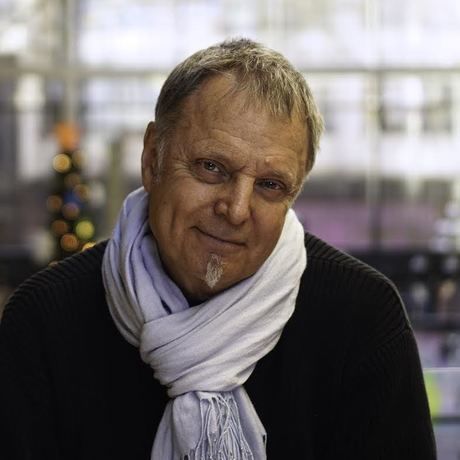 NOTE: THIS FREE EVENT IS NOT SOLD OUT, but due to popular demand, everyone is asked to join the waitlist starting Fri, October 20 from which tickets will be issued via a lottery system. Don't panic if you don't get a ticket, priority is given to those who get stuck on the waitlist two or more months in a row.
John Fluevog is an independent designer and retailer of forward-thinking footwear and accessories. Since 1970, he has been steadfast in creating unique soles for unique souls that have been seen everywhere from the feet of Madonna, Beyoncé, Lady Gaga and Jack White to the runways of high fashion. Recently, John was recognized by The Two/Ten Foundation of Canada as The Canadian Footwear Industry's Shoe Person of the Year and John Fluevog Shoes was recently named one of the world's most innovative companies in the fashion industry by creative business experts FastCompany. When you wear a pair of Fluevogs, you're wearing decades of traditionally made, untraditional design.
How do you define creativity and apply it in your career?
By opening my heart and soul to it. I then take care to listen to it —respect it— and have the boldness to do it. In short I just start.
Where do you find your best creative inspiration?
First answer would be everywhere… next in reflection of what was said or what I saw. I rarely get things from the outside inspiration. It comes from inside. Its a subconscious thing that pops up at odd times. I know when I really should do something when images keeps re-accruing and popping up in my brain.
What's the one creative advice or tip you wish you'd known as a young person?
Watch and listen. Realize that its your created self and not your ego thats at work. Step aside and listen and trust. Make quiet time and solitude a discipline
Who would you like to hear speak at CreativeMornings?
Beethoven…he heard things when he was blind and took the energy and boldness to write them down. He heard and saw and it had to come out.
What is the craziest thing you have ever done?
Open up my Chicago store when I was out of money and close to bankruptcy. Then when I was trying to do it all hell broke loose including the end of my marriage.
What was the best advice you were ever given?
I was told that my shoes and ideas were good enough to be and international brand.
When you get stuck creatively, what is the first thing you do to get unstuck
Don't worry about it .. I find that having a blank piece of paper or blank mind helps. If I try too hard it only stresses me out which is really not good I go to a quiet place and wait and if that does not work I just carry on and hope that someone else has some god ideas.
What is the one question we haven't asked that you want to answer?
The most important thing we need as creatives is to have a strong moral compass. By nature we are experiments and explorers and in that roll its easy to be self destructive to ourselves and others.
Local partners
Additional details
Tickets are always free. Waitlist registration for our ticket lottery opens Fri, October 20, 2017 at 11am.
Due to popularity causing tickets to sell out too quickly, we use our waitlist as a registration system (please register only once) from which we randomly award tickets using a lottery system. We find this approach to be the fairest and equitable and appreciate you playing along. Lucky ticket winners will be informed by email.
Don't panic if you don't get a ticket this month, priority is given to those who get stuck on the waitlist two or more months in a row.
If you get a ticket but cannot attend, please release your ticket ASAP so someone on the waitlist can join us. Remaining applicants will remain on the waitlist and informed if tickets get released and offered access to FieldTrips when available.
Anyone who hasn't checked in by 8:45am on morning of the event forfeits their ticket, so come early and have a coffee and breakfast with us!
Location