Jay DeMerit
April 6, 8:30am - 10:00am PDT. Hosted at SFU Woodward's — Goldcorp Centre for the Arts
part of a series on Game
About the speaker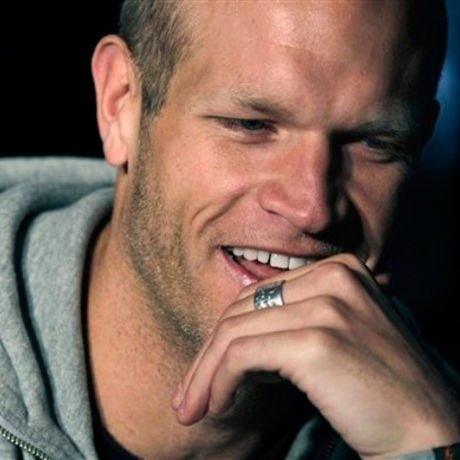 Jay DeMerit has one of the most unique success stories soccer has ever seen.
Undrafted in the MLS, Jay backpacked to Europe, slept on attic floors, and climbed the English soccer pyramid from the 12th tier to become the captain of Watford FC in the English Premier League. He also represented the US Men's National Team, playing every minute of his team's games throughout the 2010 World Cup in South Africa. In 2011, he signed on to became the Whitecaps FC's inaugural MLS captain, a position he held until retirement in 2014.
Off the field, Jay has taken the stage at Tedx Vancouver, spoken at national conferences, and was the keynote speaker on "Grit" at the US Soccer Federation's annual symposium. His story was the subject of "Rise & Shine: The Jay DeMerit Story," a documentary released in 2011 after a successful Kickstarter campaign where the soccer community raised $223,000 to turn this story into a feature film.
Based on the ideals portrayed throughout the film, Jay and his wife, Olympic Gold Medalist skier Ashleigh McIvor, started the Rise & Shine Foundation and Captain Camps, which provides a 4-day leadership program for kids ages 13-18.
Jay also has a degree in Industrial Design, which he put to use founding Portmanteau Stereo Co., which repurposes old suitcases and BC wood as portable Bluetooth speakers and home audio systems.
How do you define creativity and apply it in your life and career? I think creativity comes from a curiosity, a willingness to look at a situation, a need, or product and wonder why it is that way, and what can be done to make it better. Be it in my sporting in life or by earning a degree in product design, both have taught me this process.
Where do you find your best creative inspiration or energy? I find energy in people. The human connections that make us all unique, and trying to be a part of the social needs that connect us. Creativity is what is required to remain amongst those environments, I like to be right in the middle of that.
What's one piece of creative advice or a tip you wish you'd known as a young person? I think in any walk of life, the true foundation of how to achieve human successes are to drive from your truest self. Get to know yourself as soon as you can, by experiencing everything you can. The earlier you start to define what drives your human spirit and creative energy, the sooner you will find your successes
Who (living or dead) would you most enjoy hearing speak at CreativeMornings? Muhammad Ali or Salvador Dali
What fact about you would surprise people? I had a corneal transplant surgery in my eye, 6 months before I played in the World Cup.
What is the one movie or book every creative must see/read? When I was at University (17 years ago!), my professor made every one of us in class subscribe to Wired Magazine. It stays on the cusp of technology & design and gives us a real gateway to the future. It's still the only magazine I buy when I'm at an airport.
Local partners
HEXONET is one of the world's leading domain and Internet services providers. From our two locations (HEXONET Support GmbH in Homburg Germany and HEXONET Services Inc. in Vancouver Canada), thousands of individuals, Internet specialists, and businesses in over 100 countries, buy or resell domains and Internet services with HEXONET.
Additional details
Tickets are always free. Waitlist registration for our ticket lottery opens Fri, March 23, 2018 at 11am. Due to popularity causing tickets to sell out too quickly, we use our waitlist as a registration system (please register only once) from which we randomly award tickets using a lottery system. We find this approach to be the fairest and equitable and appreciate you playing along. Lucky ticket winners will be informed by email.Don't panic if you don't get a ticket this month, priority is given to those who get stuck on the waitlist two or more months in a row. If you get a ticket but cannot attend, please release your ticket ASAP so someone on the waitlist can join us. Remaining applicants will remain on the waitlist and informed if tickets get released and offered access to FieldTrips when available. Anyone who hasn't checked in by 8:45am on morning of the event forfeits their ticket, so come early and have a coffee and breakfast with us!
Location