Jaime Morse
December 21, 8:30am - 10:00am EST. Hosted at Ottawa Art Gallery
part of a series on Tradition
About the speaker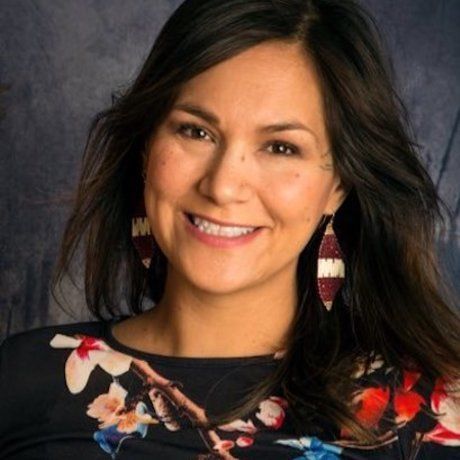 Jaime Morse (formerly Koebel) is Nehiyaw/Michif (Cree/Métis) from Lac La Biche, AB and has lived in Ottawa since 2000. She is an Indigenous arts activator, activating stories and teachings of social, political and cultural matters through Indigenous arts and culture.
As an artist her practice includes carrying on traditions of fish scale art, using porcupine quills/hair and caribou/moose hair. Jaime also practices Métis beadwork which includes land mapping and storytelling and her drawings reflect floral imagery based on traditional Indigenous knowledge.
As the founder of "Indigenous Walks," a walking tour through downtown Ottawa exploring landscape, architecture, art and monuments through an Indigenous perspective. Jaime, helps to connect others to history and culture, inspiring and empowering people through art, dance, education and traditional practices.
Jaime will be speaking on traditional practices passed down to her, how she applies those traditions to her art, and how the connection to tradition through research and sharing keeps it relevant, not only for the present but for future generations.
Local partners
Additional details
CreativeMornings is a monthly breakfast lecture series for the creative community with chapters in over 190 cities around the world. Each month we host an event that is always on a Friday, always in the morning, and always free. We provide coffee, a light breakfast, and a 20-30 minute presentation from a local creative person on the global CreativeMornings theme for that month.
Event Schedule:
8:30 AM - Doors open
8:30 - 9 AM - Check in, enjoy breakfast
9:00 AM - Talk begins
9:30 AM - Q&A with speaker
9:45 AM - Audience takes the stage
10:00 AM - Off to work!
Accessibility: Venue is fully accessible. If you require any additional help or have suggestions as to how we could make our events more inclusive, please give us a shout ottawa@creativemornings.com!
Para Transpo drop-off entrance: 10 Daly Avenue, Ottawa, ON, K1N 6E2. The Daly entrance is between Waller and Nicholas on the south side. The gallery's large glass double doors are recessed from the street.
Parking: Street metered parking is available (check hourly limits) in the nearby Sandy Hill residential area.
Other paid parking options include: Le Germain Hotel parkade (Level P1), Novotel parkade (Entrance: 3 Daly Avenue) and the Rideau Centre parkade (Entrance: 80 Nicholas Street or 5 Daly Avenue).
Public Transit: For those taking OC Transpo, get off at Mackenzie King Bridge, walk east towards Ottawa U. The gallery is on the same side of the street as the Rideau Centre mall, at the northwest corner of Mackenzie King and Waller. The gallery's entrance is recessed from the street with an LED sign out front.
About the theme:
Traditions are sacred because they cultivate consistency and a sense of belonging. It's the bread and butter for fostering connection and community.
We're in a time where traditions are being challenged and remixed. We question how they came to be and the context in how (or if) they fit into the future.
"This is just the way it is" is a statement of fear, not possibility. It undermines the human capacity to adapt and create change. Traditions are made by us, for us, so therefore they can be reinvented with intention and imagination.
You may not start the next national holiday, but you can bring to the table your generosity, your kindness, your vision and heart to create a more welcoming future.
Our Barranquilla chapter chose this month's exploration of Tradition and Andres Manjarres Felfle illustrated the theme.
Location
Hosted at Ottawa Art Gallery
50 Mackenzie King Bridge
Ottawa, Ontario K1N 0C5
When December 21, 2018
8:30am - 10:00am