James Buchanan
June 15, 8:30am - 10:00am EDT. Hosted at The Music Hall Loft
part of a series on Craft
About the speaker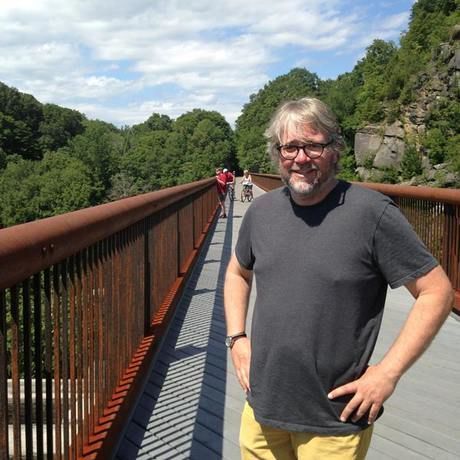 Harvest better ideas: Dig deeper into your creativity.
To me, craft is composed of two, related pieces. It is mastering the tools and skills of your work and then putting them to use to create unique value, no matter your creative outlet or career. Learning to harvest better ideas by digging deeper will help you achieve the second piece.
Hi. My name is James Buchanan and I am a recovering journalist, writer, magazine editor, and ghostwriter living in Exeter, New Hampshire. As a journalist I was lucky enough to have won several awards for my work, cover politics at all levels, and meet some of the people who've played consequential roles on the local and national political stage. As a writer, I again have been fortunate to see my work published by literary journals such as 34th Parallel, Adelaide, Plum Ruby Review, and the Oregon Literary Review. My essays have appeared in NPR's This I Believe: On Fatherhood, MSNBC, AOL, Elephant Journal, Rebelle Society, and others.
However, I earn my living as a ghostwriter, which has allowed me to meet and collaborate with a range of wonderfully interesting and driven people. They include influential technologists, leaders in cancer research, and those with incredible stories of courage and personal growth. In fact, it is this latter group I've enjoyed working with the most as the lessons I have learned about life, love, and sometimes death, are those that I will carry forever. For example, did you know that despair cannot exist in the presence of love, and that it is love the carries us when hope fails?
Before starting my life as a writer, I attended Quaker schools—my parents were teachers—and I spent several years exploring our country and gathering as many experiences as I possibly could. Many have revolved around work and the unique characters attracted to jobs such as construction in downtown Atlanta, tulip bulb harvesting in Northern California, night snowmaking in Vermont and the White Mountains, leading a crew of sawyers for the U.S. Forest Service, and managing a vineyard in the Hudson Valley region of New York, to name just a few. I've fly fished in rivers up and down the East Coast and deep in Yellowstone National Park, Montana, Wyoming, Idaho, and Utah. I've seen the full moon turn a winter's landscape an iridescent, indigo blue at 2am and minus 25 degrees. I've seen two bald eagles tear into a huge cutthroat trout as I stood in chilly river waters as snow fell in heavy, jagged flakes. And I've seen my own children come into this world and grow into two of the finest and most frustrating people I've ever met. And with them, I get to share my life with my lovely Anne-Mone. I am very lucky to have had so many memorable experiences.
In the not so lucky category, I have survived one primary cancer and three recurrences in my liver and one lung. This is an indescribable journey where the pain often is great, and my body forever changed, but the experiences and relationships in my life are the tools and means of healing and continued growth.
I have lived the ineffable truth that despair cannot long exist within the presence of love.
You can connect with James on his website at Orchard Writing.
Additional details
This event is free, but advance registration is required. Registration opens at 9am on the Monday before the event. Please sign up for our newsletter to be notified when registration is open.
The event is held at The Music Hall LOFT. Doors open at 8:30. Breakfast will be served 8:30-9am. Talk begins at 9am and event ends at 10am. There is abundant paid parking behind the Music Hall Loft and on surrounding side streets.
CreativeMornings Portsmouth - PKX is a platform for individuals to share their own truths/stories as they define it. The viewpoints and opinions expressed by any individual do not represent or reflect larger viewpoints or opinions by the CreativeMornings organization or any local chapter and not should be taken as universal truths or professional advice of any kind.
Location
Hosted at The Music Hall Loft
131 Congress St
Portsmouth, NH 03801
When June 15, 2018
8:30am - 10:00am