Ivan Sayers
October 6, 8:30am - 10:00am PDT. Hosted at SFU Woodward's — Goldcorp Centre for the Arts
part of a series on Compassion
About the speaker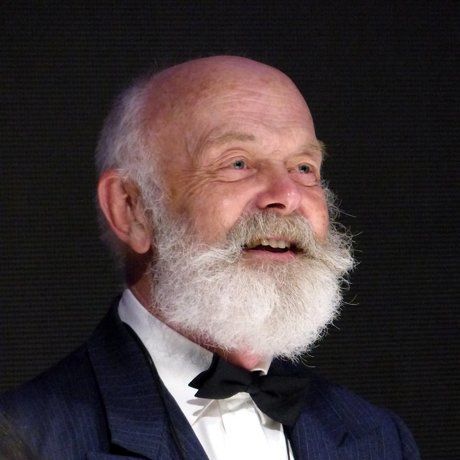 NOTE: THIS FREE EVENT IS NOT SOLD OUT, but due to popular demand, everyone is asked to join the waitlist starting Fri, September 22 from which tickets will be issued via a lottery system. Don't panic if you don't get a ticket, priority is given to those who get stuck on the waitlist two or more months in a row.
Ivan Sayers is a fashion historian who specializes in the study of women's, men's, and children's fashions from 1700 to the present. He has collected period costumes for over 50 years and now has one of the largest and most comprehensive private collections of historical clothing in Canada. As well as collecting and curating, Ivan presents illustrated lectures in the form of a historical fashion show. He usually covers women's fashions of the 19th and 20th centuries in whole or in part, but also does thematic programs. He now produces Historical Fashion shows and Museum exhibitions across western and central North America, and lectures at several local universities and colleges. He is currently the Honorary Curator of the Society for the Museum of Original Costume whose mandate it is to establish a museum of clothing and textiles in the lower mainland.
Ivan has received awards from the Western Canadian Designers and Fashion Association, the Vancouver Historical Society and was given a distinguished service award by the British Columbia Museum Association in October 2010.
How do you define creativity and apply it in your career?
I am re-creative. I try and recreate a display in fashion that explains the time and place in history that it was happening.
Where do you find your best creative inspiration?
Students inspire me to keep on top of my research. So that it is accruate and thought provoking. I want others to learn the aspects of history in costume.
What's the one creative advice or tip you wish you'd known as a young person?
Today with so many collectors it's best to specialize in one aspect rather than try to collect a lot. I would have done so sooner.
Who would you like to hear speak at CreativeMornings?
I would like to hear Jeff Wall speak. Why he does his photography and what it means to him.
How does your life and career compare to what you envisioned for your future when you were a sixth grader?
I am far more better off that I thought I would be with my carreer choice as a fashion historian. My career choice has been validated by my friends, my students and my audiences. I receive letters from people saying how I inspired them to take a greater interest in costume and in history.
Where was the last place you travelled?
I went to Vienna in the early part of the summer to see the costume exhibition 'Kauft-Bei-Juden' at the Jewish Museum in Vienna.
Additional details
Tickets are always free. Waitlist registration for our ticket lottery opens Fri, September 22, 2017 at 11am.
Due to popularity causing tickets to sell out too quickly, we use our waitlist as a registration system (please register only once) from which we randomly award tickets using a lottery system. We find this approach to be the fairest and equitable and appreciate you playing along. Lucky ticket winners will be informed by email.
Don't panic if you don't get a ticket this month, priority is given to those who get stuck on the waitlist two or more months in a row.
If you get a ticket but cannot attend, please release your ticket ASAP so someone on the waitlist can join us. Remaining applicants will remain on the waitlist and informed if tickets get released and offered access to FieldTrips when available.
Anyone who hasn't checked in by 8:45am on morning of the event forfeits their ticket, so come early and have a coffee and breakfast with us!
Location