Virtual
What are Virtual FieldTrips?
FieldTrips are meetups to interact, learn and collaborate in an effort to level-up your creative life. Built on top of our 20,000 monthly attendees at CreativeMornings talks, FieldTrips are community-organized events built on the spirit of generosity that has powered CreativeMornings events for the past 10 years.
Thanks for participating! We're lucky to have you.
Human Design 201: Let's Get (Even More) Woo-Woo
–
About this FieldTrip
Human Design is a system that helps us understand how each of us is uniquely designed based on the time, place, and date of our birth.
Human Design definitely a little bit woo-woo, and sort of life astrology on steroids (if those steroids are a combination of eastern and western esoteric systems). It is also an incredibly potent method of understanding the ways you best flow through the world.
This workshop is a continuation of the Human Design 101 workshops I have previously offered through CM in April and June and December, however, you don't need to have attended either of those to attend this time!
In this workshop we will be focusing on the nine energy centers. The nine energy centers are the squares and triangles that are either white (open) or colored in (defined) in your body graph.
If you don't know your design yet, look it up here: https://humandesignamerica.com/ and then DON'T PANIC! I will help you understand what it's all about.
It is highly recommended that you look up your design prior to the beginning of the field trip. (Accurate birth date and time information is preferred, but not totally essential. A solid estimate is enough to work from)
Note: This workshop is open to anyone with any level of knowledge about Human Design. It is designed to focus on the energy centers however, so know that we won't spend much time on type, strategy, or authority, other than how they relate to the energy centers.
About your Host I'm a creative intuitive and huge Human Design Nerd. 🤓But don't worry if you're a skeptic, I'm only one woo. I use Human Design to help people connect with their creative power, understand their intuition, and find greater ease and alignment.
Organizer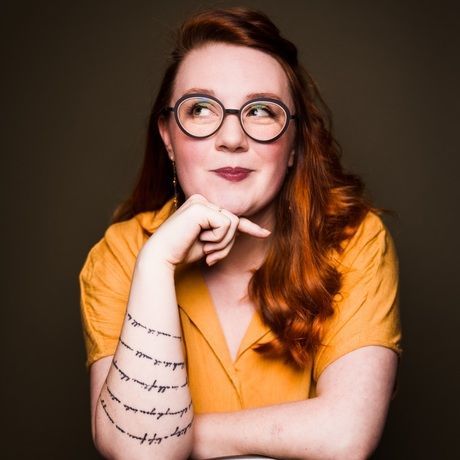 Clare Marie Edgeman
Hosted at This is a virtual event, you will receive a link to attend in your registration email
When
–