About the speaker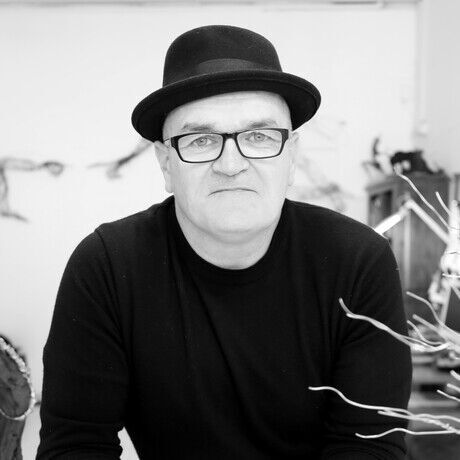 Glenn Gibson is a professional Irish artist creating & teaching wire sculpture in Galway. Renowned for his Connemara hawthorn sculptures, Glenn's work explores themes of interconnectedness and Celtic Lore. Glenn's workshops take place in physical and digital formats, and "create a comfortable and inviting atmosphere that allows each student to explore their inner artist in a way never experienced before".
Glenn is the Creative Director for Art in Mind. Art in Mind is Galway's artist led non-profit organisation dedicated to promoting wellbeing and mental health through creative practice. Art in Mind spans several buildings in the Liosban Industrial Estate, composed of offices, studio space & a gallery.
With a career spanning over two decades, Glenn's work inspires awe and creativity to those around him. Often working on a commission basis, his bespoke sculptures are showcased internationally. With prices ranging from just 30 euro to the tens of thousands, there is something for everyone. Glenn ships his handmade work internationally. For commission enquiries email glenngibsonsculpture@gmail.com
Local partners
Krayon is an online booking platform for in-person, hands-on classes and workshops. Whether you want to learn for fun and attend a photography workshop or improve your professional skillset with an animation masterclass, simply visit krayon.ie to look, book and learn.
The Tara Building is a home for those that want to plug into a community of driven, professional individuals and organisations. Delivering work at the peak of its creative potential, that doesn't settle with just getting the job done, but exceeds expectations. The Tara Building is a space for creative energy to be translated into impactful, exciting work. We are not just a place for production, but for community and culture. Through our Social Programme, you can strengthen your project via tailored workshops and classes that invest in your work, your project and you. A membership at the Tara Building opens up your practice to a network of like minded, motivated creative professionals.
Additional details
This month's speaker is wire sculptor Glenn Gibson. We'll have music from shiv and our first, free monthly Yoga class with Georgia Connolly. We'll also have a free workshop so stay tuned for details!
Location
Hosted at This is a virtual event, you will receive a link to attend in your registration email
When
–