Gita Sjahrir of RIDE Jakarta
– Hosted at Bistro Baron
part of a series on Commitment
About the speaker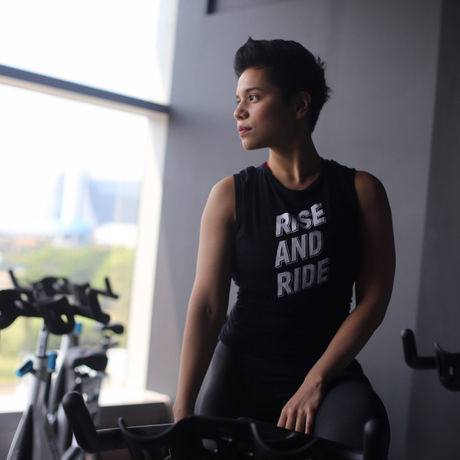 Gita Sjahrir is the Co-Founder of RIDE Jakarta, Indonesia's first boutique indoor cycling studio. She was inspired to create an active community in Indonesia when she found wellness and health through fitness after battling systemic rheumatoid arthritis for 15 years.
Prior to RIDE, Gita worked in the corporate world for years and specialized in business development and general management in Singapore, Indonesia, the Middle East and the United States. Whilst attending The Wharton School at the University of Pennsylvania for her M.B.A. program, she fell in love with the world of entrepreneurship and fitness. She moved to Indonesia with the hopes of creating a startup in the wellness sector.
Three years later, RIDE Jakarta became the first boutique fitness brand in Indonesia to ever receive venture capital funding. The company's flagship is in Plaza Indonesia, and it is now expanding to 5 locations in Jakarta in 2018, with plans to enter Bali, Surabaya and other promising markets. RIDE has also collaborated with multiple leading lifestyle brands, including SaladStop, Love Bonito, Nike, The Potatohead Group and many others. The studio has been covered in over 150 media outlets, including The Jakarta Post, CNN Indonesia, Cosmopolitan, Yahoo News Singapore, Metro TV and Kompas.
Gita currently runs RIDE Jakarta full time and stays committed to her active lifestyle through her work as a Nike affiliated athlete, RIDE's Director of Training and Instructor for Indonesian Krav Maga, one of the only two female IKM teachers in Indonesia.
Local partners
lingkaran is an educational community for creatives to develop skill and interest through knowledge sharing. We design non-formal learning experience focusing in personal development, creative skills, and entrepreneurship to help you respond the challenges of modern society.
The idea behind Conclave is simple: we want to build a place where independent creative entrepreneurs and professionals can gather, communicate and support one another. Jakarta is buzzing with creative energy but the lack of infrastructure often gets in the way. That's where we come in.
Since its opening, Plaza Indonesia has maintained its position as the country's first-class shopping and lifestyle destination, and has established a solid reputation synonymous with fashion, luxury, quality and 5-star customer service. Plaza Indonesia is distinguished from its competitor by the exclusivity of its prime retailers, the superior quality of its construction materials, up-market customer profile, first-rate services and facilities, and prime location in the center of Jakarta's business district.
Location
Hosted at Bistro Baron
Jl. M.H. Thamrin No.28-30, RT.9/RW.5, Gondangdia, Menteng
Jakarta Pusat, Jakarta Indonesia 10350
When
–