Game - Mikołaj Stroiński
April 20, 8:30am - 10:00am CEST. Hosted at Narodowe Forum Muzyki
part of a series on Game
About the speaker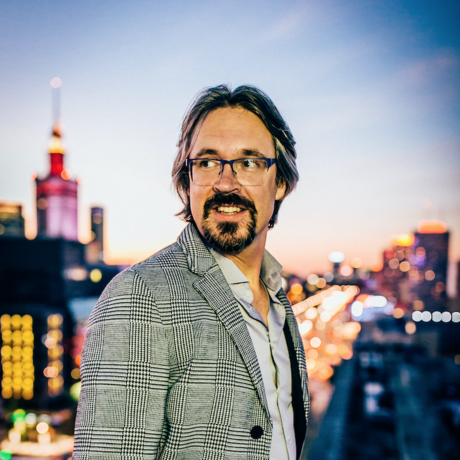 Polski kompozytor, który na co dzień mieszka w Los Angeles. Ukończył Akademię Muzyczną im. Karola Szymanowskiego w Katowicach oraz Berklee College of Music w Bostonie. Jego utwory ilustrowały słynne filmy, seriale i gry video. Muzyk współpracował również z największymi stacjami telewizyjnymi m.in. HBO, Discovery Channel, History Channel i FOX.
Najbardziej znanym tytułem w dorobku Mikołaja Stroińskiego jest trzecia odsłona gry ,,Wiedźmin 3" (Dziki Gon oraz Krew i Wino), którą pokochały miliony fanów na całym świecie. Utwory kompozytora podbiły serca także fanów innych gier, czego dowodem była nominacja ścieżki dźwiękowej "The Vanishing of Ethan Carter" do nagrody Game Developers Choice Awards w 2015 roku. Jego muzykę usłyszymy również w licznych filmach i serialach (,,Bez Tajemnic", ,,Paradoks" i ,,Zbrodnia"), przy których współpracował m.in. z reżyserami Agnieszką Holland, Wojciechem Smarzowskim i Borysem Lankoszem.
Local partners
Additional details
Podczas spotkania CreativeMorningsWRO kompozytor zinterpretuje temat Game przez pryzmat własnych doświadczeń. Mikołaj Stroiński stworzył oprawę muzyczną do kilkunastu gier. Przez prawie dwa lata pracował nad soundtrackiem ostatniej części trylogii ,,Wiedźmina", w której zawodnicy wcielają się w tytułową postać Geralta z Rivii i odbywają podróż do świata fantasy ze słynnej sagi Andrzeja Sapkowskiego.
Location
Hosted at Narodowe Forum Muzyki
plac Wolności 1
Wrocław, Dolnośląskie 50-071
When April 20, 2018
8:30am - 10:00am