VIRTUAL: Farmer Angus
– Hosted at Zoom Virtual Event
part of a series on Divergent
About the speaker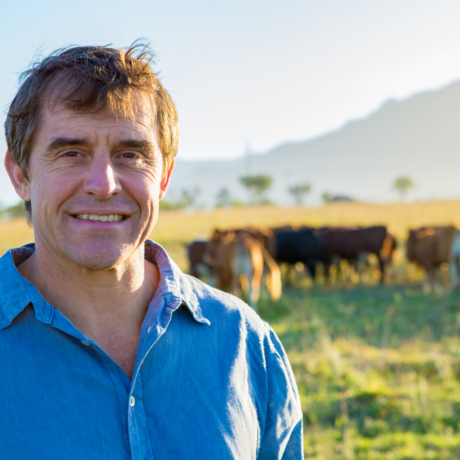 Angus McIntosh, known as Farmer Angus grew up on a cattle ranch in Kwa-Zulu Natal. He studied Management Accounting at Stellenbosch University before stockbroking for Goldman Sachs in London for just over four years before declining a promotion, leaving his job and returning to South Africa. He built a clay home with inspiration from various people on the way, This also led to him becoming a biodynamic student, grass farmer and carbon sequestrator.
"After reading about Joel Salatin of Polyface Farms in Virginia, USA, in Michael Pollans' "The Omnivore's Dilemma" Angus decided to become a farmer. Under the mentorship of Christo Kok, he started farming on Spier, outside Stellenbosch, South Africa, in December 2008.
Farmer Angus subscribes to principles of regenerative agriculture which is a conservation and rehabilitation approach to food and farming systems – regenerating topsoil, increasing biodiversity, improving the water cycle, and increasing resilience to climate change. The end result is a more sustainable, healthier farming system with food that is also healthier for people and planet.
Additional details
PLEASE NOTE: THIS IS A VIRTUAL EVENT
Angus McIntosh, also known as Farmer Angus speaks on February's theme – Divergent.
Angus has taken a few divergent paths on his journey into regenerative agriculture. He's built his brand on going against the grain and doing what is right for his people, his business, and the planet.
Location
Hosted at Zoom Virtual Event
Your house
Johannesburg, Gauteng South Africa 2000
When
–