Emma Mactaggart
July 19, 7:30am - 9:00am AEST. Hosted at Toowoomba City Library
part of a series on End
About the speaker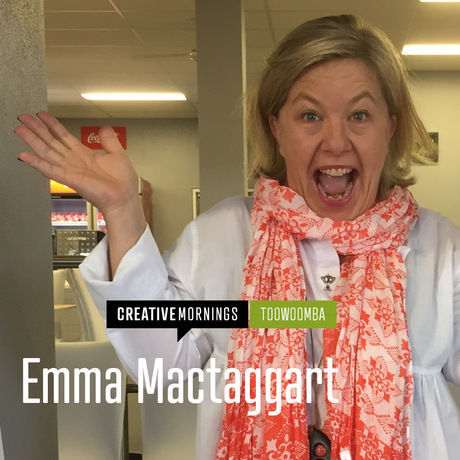 Emma Mactaggart is an award-winning author, speaker and publisher. If she isn't consuming books herself, she's creating them.
Emma has been teaching the craft of writing and illustrating to children and adults since 2005 via her Child Writes program and the registered charity, The Child Writes Fund. Her publishing business (a small press with a big purpose!) Boogie Books is the largest publisher on Amazon of children's picture books written by children for children.
Emma is a regular guest on ABC Southern Queensland Radio talking about books. She also the Founder of International Read to Me! Day, focused on the importance of reading regularly to children.
Local partners
Thank you to Snap Printing for helping us with our print collateral, such as pull-up banners, signage and other cool stuff you'll see around. Printing is a significant cost for an event series like this, and Snap has made sure we can allocate our funds to other things. Their service is amazing. We highly recommend them!
Additional details
Directions: We will be at the library - specifically in the community rooms on Level 3. If you park underneath, catch the elevator right up to Level 3. Otherwise, if you come in on the ground level, there are stairs you can walk up, or an elevator you can catch.
Parking situation: There's heaps of parking underneath the library, or it's just a short walk from Grand Central.
Access situation: The Library is fully accessible.
Please contact us at toowooomba@creativemornings.com if you have any questions.
–
[ FREQUENTLY ASKED QUESTIONS]
If it's free, do I need to register?
Yep! (Please.) Because we need to allocate you some coffee and pastries, and imagine missing out on those…
If you just turn up on the morning, we can't guarantee you a seat/croissant. So please help a girl out and register.
Do I need to bring anything?
A mug or KeepCup for your coffee, and an open mind! And maybe a notebook if you like.
How long does it go for?
All our events are the same format – doors open at 7.30am, the talk starts at 8.00am and finishes (as much as possible) at 8.30am. Doors will open after the talk, and you're welcome to stay for another coffee and a chat until 9.00am or so.
All events will be on a Friday morning. We don't currently have plans for night-time or weekend events, but you never know…
Can I bring my little one?
Absolutely! Everyone is welcome!
If they're going to go crazy on the croissants, let us know and we'll put them down as an extra person ;)
What if I miss out on tickets?
We use a waitlist for registrations and release any extra tickets as they become available via a lottery. We'll send you an email if your name comes up, and priority is given to those who get stuck on a waitlist for 2-3 months.
If you can't attend, please, please, please release your ticket ASAP so someone else can join us. Please don't register if you don't think you'll actually attend. We will eventually have to take you off the invite list if you regularly don't show up for events, just to make it fair for those who regularly miss out.
Location
Hosted at Toowoomba City Library
155 Herries Street
Toowoomba, QLD 4350
When July 19, 2019
7:30am - 9:00am