Dr. Faith Ngunjiri
– Hosted at Online
part of a series on Radical
About the speaker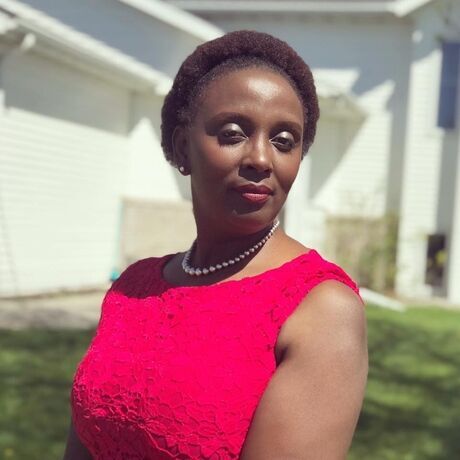 Dr. Faith Ngunjiri is an immigrant Black African woman, a professor of leadership and ethics, a single parent, a spiritual guide-in-training, and a leadership coach. She is active in the community, serving on the advisory board for TEDxFargo, the board of trustees for United Way Cass Clay, and the community board for Jeremiah Program. Recently, Dr Faith was gifted a mug by one of her students that reads: Empowered Women Empower Women. That truly captures Dr Faith's purpose in life —participating in the empowerment of others, particularly those who exist at the intersections of marginalized identities. She is currently on sabbatical and writing a memoir on her experiences as a Black, female, academic living and working in predominantly white spaces.
Additional details
Join us as we welcome Dr. Faith Ngunjiri to our VIRTUAL stage to discuss this month's topic "Radical". Following her talk, she'll be leading an Anti-racism roundtable discussion with local community members Deb Jenkins, Melvin Whitney, and Theresa Garrett.
When we embrace radical ideas for positive change, we must be willing to reconstruct what we see and act otherwise. Better doors and realities can only open when we collectively start to move differently.
"In the space of 'ideas' is where we can radically change systems," explains artist and cultural organizer Favianna Rodriguez. "And that is, how do we completely re-envision our society?"
Being radical can also be as simple as exercising a new level of hospitality and generosity. Entrepreneur and activist Tanya Torp shares, "It's radical when you let other people lead, and you get out of the way. I define radical hospitality as 'transformational connections through welcome.'"
This month, we encourage you to quiet your mind and think about a few areas you're willing to shake things up. Together, let's create more radically profound, kind, and welcoming rooms.
Our San Diego chapter chose this month's exploration of Radical, Maheswari Janarthanan illustrated the theme, and Mailchimp is presenting the theme globally.
Location
Hosted at Online
Your own home!
Fargo, North Dakota United States 58103
When
–