Deanna Yang, Moustache
November 29, 8:00am - 9:30am NZDT. Hosted at Q Lounge
part of a series on Bravery
About the speaker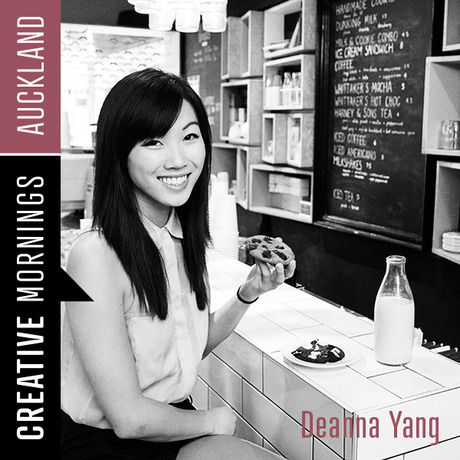 Owning a cookie store had been on Deanna Yang's bucket list for over a decade when she finally opened the kitchen of Moustache Milk & Cookie Bar at the age of just 21. She did so with little knowledge of how to run a business; all she had to go on was her drive, determination, and a healthy dose of bravery.
Moustache is a cute and cosy wee cookie bar on Wellesley Street, just up from The Civic. Every day they bake fresh, handmade cookies just like the grandma used to (maybe even a wee bit better…), Deanna describes her produce as "old-school but with a modern twist". Classic flavours such as Chocolate Chunk & Peanut Butter Cookies are staples on the menu but quirky inventions such as Lemon Meringue & crème brûlée have been also become roaring successes.
Deanna's personal dedication to following through with her dream is nothing short of impressive. She knew what she wanted to achieve, and had the wherewithal to follow-through with everything she had, despite various set-backs along the way. As she describes it, "the walls of Moustache are built with my tears, my failures, my love, and of course my stories".
Perhaps overall the thing that allowed Deanna to open Moustache, and cross that item off her bucket list, was her courage. For this reason she is the perfect choice to talk on this month's CreativeMornings theme of Bravery.
Local partners
Location
Hosted at Q Lounge
305 Queen St
Auckland, New Zealand
When November 29, 2013
8:00am - 9:30am