Andy Cruz of House Industries
December 13, 6:00pm - 8:00pm EST. Hosted at The Frontier Project
About the speaker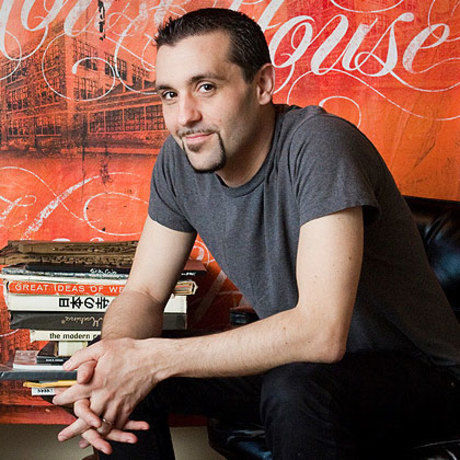 Andy Cruz
Co-Founder and Co-Owner, House Industries

The Process is the Inspiration

Where do you find inspiration? It seems like a simple question, but like most things they do, House Industries overthought it and formulated this post-rationalized and over-intellectualized lecture backed up with tons of new images and videos. With topics ranging from fonts and fashion to ceramics and space technology, House Industries co-founder Andy Cruz explains how a collective obsession with letters, numbers and symbols became a kaleidoscope of products, projects and partnerships.

Presented by Capital One and hosted at the Frontier Project
Local partners
At Capital One, we believe that innovation is powered by perspective and that teamwork and respect for each other lead to superior results. We elevate each other and obsess about doing the right thing. Our associates serve with humility and a deep respect for their responsibility in helping our customers achieve their goals and realize their dreams. Together, we are on a quest to change banking for good.
The Frontier Project is an organizational transformation company. We're committed to supporting clients in the incremental, tactical work of changing cultures through enabling employees to develop new mindsets and establish new habits.
Additional details
About House Industries
Known throughout the world for its eclectic font collections and far-reaching creative exploits, House Industries has been a standard-bearer for American graphic design for 25 years. House has worked with a diverse list of collaborators including Jimmy Kimmel, Hermès, The New Yorker, John Mayer, Muji, the Estate of Charles and Ray Eames, and Heath Ceramics. Their work is in the permanent collection of the Smithsonian's Cooper-Hewitt National Design Museum and was the subject of a major exhibition at The Henry Ford museum in 2017.
Location
Hosted at The Frontier Project
3005 W. Marshall Street
Richmond, VA United States 23230
When December 13, 2017
6:00pm - 8:00pm