CreativeMornings LATES: Designing science fiction.
July 4, 6:30pm - 8:00pm BST. Hosted at Business Design Centre
About the speaker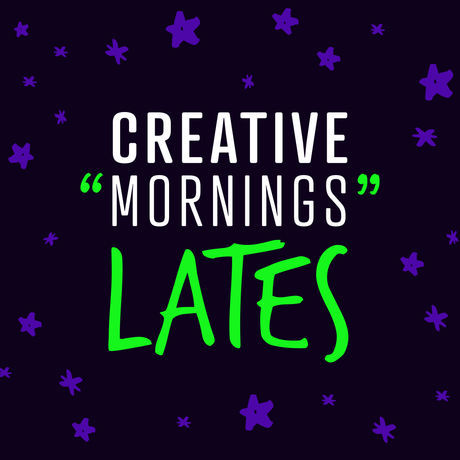 50 years ago, an unsuspecting July saw humans setting foot on the Moon for the very first time. And the world was changed forever. True to theme, the next CreativeMornings LATES explores sci-fi (less popularly, science fiction). In partnership with London New Designers festival, we trace the boundaries of sci-fi to see how we might push them further. What does sci-fi design do differently and prod us to consider? What is its role in popular culture, design and subsequently, our lives? The evening will be a series of short talks by software engineer Mathieu Triay, designer-engineer Bianca Berning, and award winning filmmaker Nour Wazzi, followed by a panel discussion.
This might be the starting point of new futures, and nothing's out of bounds.
Join us, it's going to be out of this world!
Additional details
Bianca is a designer and engineer based at the intersection of typography, type design and technology. She is Creative Director at typeface design studio Dalton Maag and an active member of Alphabettes, Association Typographique Internationale (ATypI) and the Unicode Consortium.
Mathieu is a software engineer with a passion for design. After 5 years as Technical Director of a children's education startup, he joined Penguin Books to work on award winning creative campaigns. He's now a Principal Software Engineer at BBC R&D, exploring the future of online news and metadata extraction. On the side he runs a small creative practice producing websites, fonts and a magazine called Visions.
Nour is one of the very few female filmmakers in the UK who is primarily focused on thought-provoking, moving and gripping stories within a science fiction space. Following a number of award-winning shorts, her first feature 'Osiris' which will be shooting next year is a sci-fi/ action/ thriller revolving around three generations of women on a prison planet. Tipped as a future star on BBC's 2017 hotlist, Nour's recent sci-fi/ thriller short 'Lab Rat' (also being developed into a feature) asks what if love could be built, packaged and sold? Her sci-fi/ horror feature 'Chimera' explores memory, time, grief and identity. Nour is also developing sci-fi TV series 'Your Country Needs You' that focuses on conscripted teenagers from different backgrounds who will do anything to live… not just survive.
Location
Hosted at Business Design Centre
52 Upper Street, London, N1 0QH
London, United Kingdom
When July 4, 2019
6:30pm - 8:00pm