Councillor Catherine McKenney
April 29, 8:30am - 10:00am EDT. Hosted at Art Bank
part of a series on Risk
About the speaker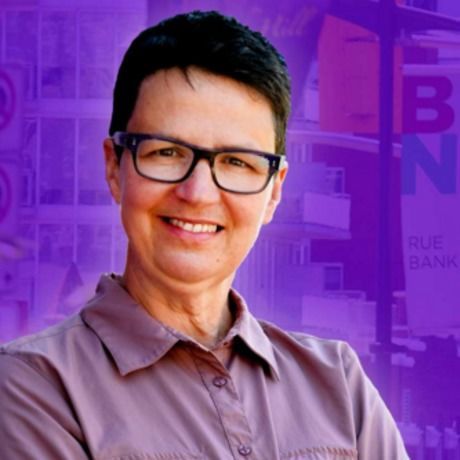 This month, CreativeMornings Ottawa has partnered with Out in the Capital to deliver a presentation by guest speaker Catherine McKenney - who you may recognize as an Ottawa City Councillor. Something you may not know - however - is that Councillor McKenney is also Ottawa's first openly LGBTQ woman elected to Ottawa Council. Under this month's theme of "RISK", our guest speaker will talk about her political journey, including how she navigated being openly queer in politics and what hurdles she faced in getting to where she is today.
Catherine McKenney was elected to Ottawa City Council on October 27th, 2014. She is the first open LGBTQ woman elected to Ottawa Council. Prior to her election she was the strategic advisor to the Deputy City Manager (Operations) at the City of Ottawa, responsible for services ranging from Fire and Paramedic, Bylaw, Housing, Child Care, and Social Services, to Parks, Recreation, Arts, and Culture, Public Works, Water and Wastewater, Transit and Solid Waste. Catherine also has experience in the voluntary sector as manager of public policy for Volunteer Canada and as regional manager for VoicePrint, which delivers print media in audio format to the visually impaired. Catherine has made her home in Ottawa for the past 30 years and currently lives with her family in the Preston-Somerset area.
Local partners
Out in the Capital facilitates the professional development of Lesbian, Gay, Bisexual, Transgender, Queer & Ally (LGBTQA) students as they transition from school to career in order to build a national network within the LGBTQA community.
The Canada Council for the Arts established the Art Bank in 1972 to raise awareness of the remarkable breadth and quality of Canadian art being produced at the time. Today, the Art Bank boast the largest collection of contemporary Canadian art anywhere. The collection is currently valued at over $71 million.
Rogers TV stations produce more local TV than any broadcaster. In 2012, our stations produced 17,000 hours of informative local programming involving over 25,000 community groups, underlining our commitment to our communities and to the objectives of the Canadian Radio-Television and Telecommunications Commission's policy for community-based media.
Additional details
Event Schedule:
8:30 AM - Doors
9:00 AM - Talk begins
9:20 AM - Questions Period
9:30 AM - Networking
10:00 AM - END
Location
Hosted at Art Bank
921 St Laurent Blvd
Ottawa, Ontario Canada K1K 3B1
When April 29, 2016
8:30am - 10:00am