Corey Alston
January 24, 8:00am - 9:30am EST. Hosted at Redux Contemporary Art Center
part of a series on Roots
About the speaker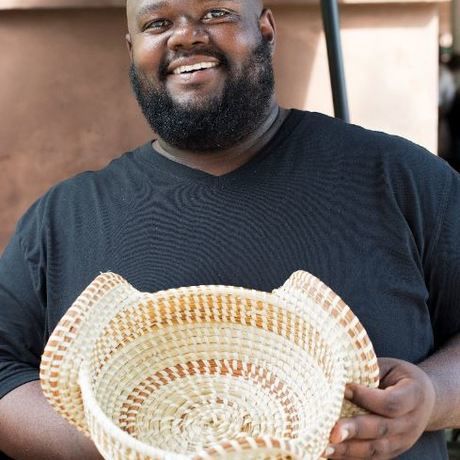 Corey Alston knows all about our January theme, Roots. He is a fifth-generation sweetgrass basket weaver from Mt. Pleasant and started weaving when he was a teenager. His baskets display a variety of patterns and designs, and he's even taken the time-honored tradition into the modern world with online design creation and beautiful photography.
Local partners
REDUX CONTEMPORARY ART CENTER is a nonprofit organization committed to fostering creativity and the cultivation of contemporary art through diverse exhibitions, subsidized studio space for visual artists, meaningful education programs, and a multidisciplinary approach to the dialogue between artists and their audiences.
Roots Hummus began as Roots Cafe, a popular breakfast and lunch spot located in Asheville's River Arts District. The site is now a dedicated hummus kitchen where our team of chefs produce and package hummus of the highest quality using popular recipes from Roots Cafe. Each tub is packed with only simple, fresh, pure ingredients and this small-batch, preservative-free approach has been the key to our success. We are referred to as "The Microbrew of Hummus" because of the hand-crafted, artisanal nature of our products. All Roots products are non-GMO verified, gluten-free, vegan and free of preservatives. Our product line includes traditional hummus recipes as well as signature flavors such as Mango Sriracha, Thai Coconut Curry and Lima Bean.
Counter Culture Coffee is dedicated to finding and bringing to market the most exciting and delicious coffees in the world. We approach our work with a passion for the ideal of coffee perfection, a dedication to real sustainability, and a commitment to cutting-edge education throughout the coffee chain.
Additional details
8 a.m. | Doors open for breakfast and coffee 8:30 a.m. | Program begins 9:30 a.m. | Program wraps
We will also welcome Joyce Taylor from the singing group Spiritually Yours. Spiritually Yours is renowned for their singing of the music of the Lowcountry. SY consists of 6 beautiful women who range from the highest of sopranos to the lowest in baritone. Together the group has been singing Gospel, Country, R & B, Beach and Spirituals for over 10 years and have performed in various weddings and other special events.
Location