Speakers selected from CMbuf community pitches present lightning talks on anxiety, as it relates to creativity.
First, Dr. Mark Donnelly offers a solution for creative anxiety: Get Old! Then, in her talk, "Anxiety: The Worst Wingman Ever, But a Wingman Nonetheless," Vanessa Glushefski discusses the process of reflecting on the anxiety in her life and how that reflection helped to change her perspective on the subject.
About the speaker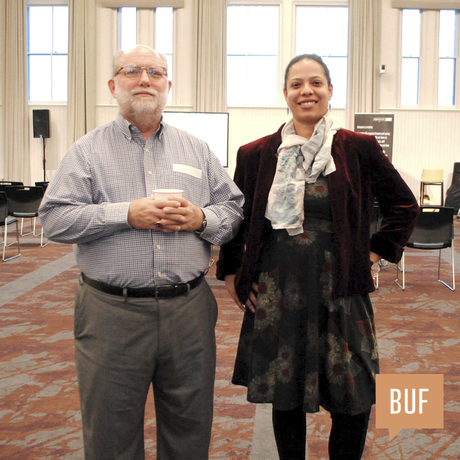 In celebration of the new year, we will had a number of presenters this month who will shared stimulating and thought-provoking "shorts" of their take on #CManxiety.
➤ Mark Donnelly is an educator, author, publisher, passionate community activist, proud husband and father, freemason, and a man seldom separated from his camera. As an award-winning photographer, Mark's work has appeared in dozens of regional exhibitions and galleries. Dr. Donnelly has produced several books that highlight the beauty of our city: The Fine Art of Capturing Buffalo, Frozen Assets, Statuesque Buffalo, There's So Much To Love, and Shovel-Ready City, and he took the photographs for Celebrate Buffalo's Waterfront, and The Allentown Detective. Mark also stretches his writing to include children's books such as Where the Bathwater Goes, The Worm Doctor, Last Year When I Was Small, My Name is Rocky, and Theresa's Sock. He's also dabbled in writing a series of novelty cookbooks such as Goose the Cook, Fifty Shades of Gravy, and Plucked. Mark's newest project is A City Built by Giants, a book honoring the architectural genius that surrounds us.
➤ Vanessa Glushefski is both a CPA and attorney, currently serving as Legislative Director to Assemblywoman Monica Wallace. In the 2017 election cycle, Vanessa Glushefski put her career on hold to run for political office. Challenging an incumbent with heavy name recognition for Erie County Comptroller, Vanessa was able to get 45% of the vote in the general election. Vanessa is also an unpublished writer. Most of her work has focused on a series of short stories, but she is currently working on a full-length novel.
Favorite quotes from this talk See all
"

Be confident in your abilities. Live fearless. Find your happy place. Bring cookies. -Mark Donnelly — 2018 Community
"

Creative people tend to walk tightropes without a net. Now that I'm older, I realize that the tightrope is really as wide as the sidewalk. -Mark Donnelly — 2018 Community
"

Crippling creative anxiety is a different place, and I don't live there anymore. -Mark Donnelly — 2018 Community
"

Exercise the no sphincter rule. Life's too short for working with jerks and crappy projects. Exercise patience. Something cool will always come along. -Mark Donnelly — 2018 Community
72

Lovely Attendees






see everyone