ROBIN - the #watchforwishes COMMITMENT
May 25, 8:30am - 10:00am CEST. Hosted at Steinbeis - School of Management + Innovation
part of a series on Commitment
About the speaker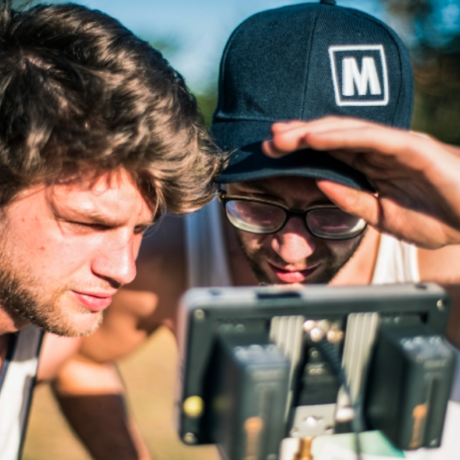 Together with his brother Kevin they lead a young FilmCrew -FREW from Munich, committed to making movies not only for their own sake but also to use this emotional medium to foster social impact. To change people's minds – and lives!
Toby will be sharing footage, emotions, and insights about his four year commitment ROBIN - the watch for wishes campaign. A social impact movie, made to help children in need.
Local partners
Spinning Wheel Productions is a video production company specialized in capturing events, corporate videos, commercials, sports, and documentary films.
oneWave Studios ist ein junges, Gesellschafter geführtes Medienunternehmen mit Sitz in München. Unser Fokus liegt auf der Umsetzung von Filmprojekten aller Größen und Formen, sowie Fotografie. Durch unseren Hintergrund aus der Marketing & Eventindustrie können wir Ihre Zielgruppe klar definieren und schaffen Perspektiven. Dabei suchen wir durchweg den offenen Umgang mit unseren Kunden und verstehen es, durch unseren strukturierten Ablauf und klare Kommunikationswege, stets Raum für kurzfristige Wünsche und Anliegen zu schaffen.
Nicola Riva is an italian Postproducer & Photo Assistant located in Munich, Germany. His expertise in photo retouching comes from several years of experience with Photoshop, from a Master Degree in Visual Communication and from his never-ending passion for photography. The goal of his work is to help photographers achieving the perfect image, by handling all the tasks related to the photo shooting's preparation, execution and of the following post production. Want to discover how he can help you? Feel free to ask for informations in English, Italian or Spanish at me@nicolariva.de
Additional details
A commitment is a promise to show up whether you're having a good or bad day. It's a behavior and mindset that signifies the posture of a professional. It's about saying yes with your whole heart.
ROBIN isn't just another movie – it's the heart of a social impact campaign. 'Watch for Wishes' is an online donation campaign helping to fulfill the wishes of actual children with life-threatening medical conditions or children living in poverty
Location