CM Jakarta's 2nd Anniversary
October 22, 9:00am - 12:00pm WIB. Hosted at Conclave Wijaya
part of a series on Transparency
About the speaker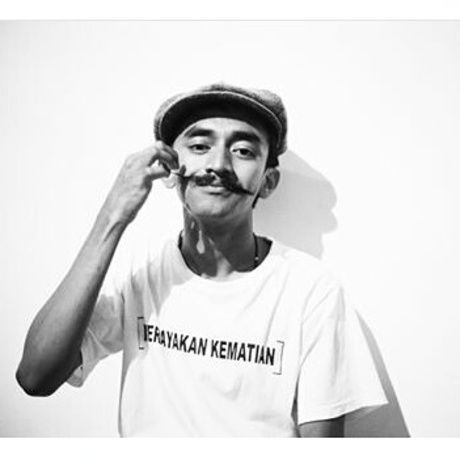 Wanggi Hoed is an Indonesian mime artist and the founder of Mixi Imajimimetheatre Indonesia. He has been engaged in performing art scene since 2004, on which his works mostly revolved around social justice, humanity, history, and cultural mission. He's actively participating, collaborating, and creating cultural art workshop with diverse artists, musician, and community, locally and internationally. Some of them are Aksi Kamisan Bandung, Indonesian Mime Artists Society, ASEAN Mime Society, Teater Cassanova Indonesia, Awak Inisiatif Arts Movement, and Nyusur History Indonesia.
Wanggi is widely known as the social activist who utilizes mime to raise awareness of issues like anti-corruption, the murder of Munir, and violence against women. Mime, for Wanggi, is a medium to express silence: the universal language hidden in our noisy world. Using the movement and body language, he is trying to reveal the meaning behind the articulate, extroverted world upon us.
Transparency, for him, is the soul of his art.
Local partners
Additional details
October is an important month for us. It's the month when our community was born, that time when our curiousity was nurtured from a single question: Is it true that a city is the place where anyone can do anything? Is creativity really everyone's cup of tea? Hence, the narrative of every breakfast lecture we've thrown is to capture the good energy from the people who are passionate to make things work.
Two years from that moment, here we are preparing our journey to CreativeMornings Summit in Austin. It is our ultimate opportunity to develop ourselves as creative organizers, to expand our creative community in Jakarta to be bigger and better. Before that happen, we would like to express our gratitude for everyone who've managed to get up earlier than usual, beat the traffic and spent few hours with us. Come celebrate with us!
The celebration will be held on Saturday, October 22, 2016. Starting 9 am until lunchtime. Not only that we'll be having Wanggi Hoed, the session will be continued with a simple birthday event and some humble surprises!
Location
Hosted at Conclave Wijaya
Jl. Wijaya I No. 5C, Petogogan, Kebayoran Baru
Jakarta, DKI Jakarta Indonesia 12170
When October 22, 2016
9:00am - 12:00pm