Chris Damaskis, les non-dits de l'illustration
– Hosted at job'in design
part of a series on Taboo
About the speaker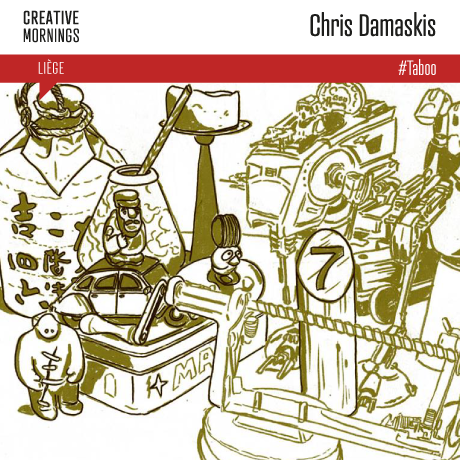 Avant de se consacrer à la bédé, Chris Damaskis a roulé sa bosse. Traducteur de formation, il a enseigné le français à l'étranger, en Espagne, à Cuba, en Europe centrale, pendant une quinzaine d'années. Rentré au pays, il revient dans un premier temps à la traduction et s'inscrit aux cours du soir de l'Académie des Beaux-Arts de Liège, dans la section bande dessinée et illustration. La pratique du dessin, longtemps cantonnée à une activité de loisir exercée en dilettante, occupe aujourd'hui tout son temps. Il publie régulièrement des dessins pour divers magazines liégeois et récemment, il a mis la dernière touche à un roman graphique, réalisé en collaboration avec 4 autres jeunes auteurs liégeois, qui sortira au début de l'année 2016, dans le cadre du festival « Tous Migrants » organisé par la province de Liège. Embarqué dans un projet collectif qui débouchera sur la publication d'un magazine explorant des thématiques surprenantes sur un mode qui ne l'est pas moins, il planche également sur une série de projets personnels de bande dessinée et d'expositions, qui aboutiront dans le courant de l'année 2016.
Local partners
More than 15 million people and businesses around the world use Mailchimp's marketing automation platform to to reach their customers and grow their business. Mailchimp shares CreativeMornings' belief that we're better when we work together.
Job'In (www.jobin.be) est actif depuis maintenant 19 ans dans l'aide à la création d'entreprise, et en particulier des demandeurs d'emploi porteurs d'un projet d'activité économique.
Additional details
Une matinée autour de la question de l'illustration de presse, erotique, jeunesse… Tous les volets de cette sphère où le tabou est sans cesse d'actualité.
Location
Hosted at job'in design
Rue Paradis 78
Liege, Belgium 4000
When
–