"Compassion does not have to be perfect, but it does have to be intentional."
"Compassion does not have to be perfect, but it does have to be intentional." In September 2017, Chris Bolden-Newsome, co-founder and co-director of the farm at Bartram's Garden, spoke about the importance of compassion in everyday life.
About the speaker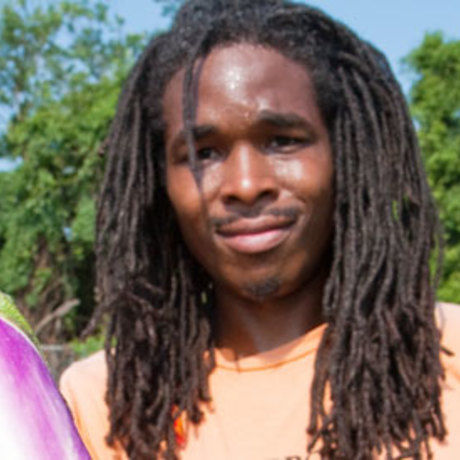 Chris Bolden-Newsome grew up in a social justice focused household, the oldest son of small scale organic farmers and food sovereignty educators Demalda Bolden-Newsome and Rufus Newsome, Sr. The Bolden-Newsome family originates from the Mississippi Delta where Chris grew up raising and eating many traditional African American crops. In the mid 1980's the family relocated to Tulsa, Oklahoma.
Always fascinated by growing food, Chris got involved in food justice initially in Washington, DC, starting backyard gardens for neighbors while studying anthropology at Howard University from 2001-2004. Chris worked on his family's farm in Tulsa where he grew food for market and designed food sovereignty and hands on agricultural workshops for teachers, after school programs and First Nations tribal entities.
In 2008 Chris moved to Philadelphia where he managed and created programming for the Seeds for Learning Youth Farm at Martin Luther King High School. In 2011 working with farm Co-Director Ty Holmberg and at the time, the University of Pennsylvania, Chris helped to establish the Community Farm and Food Resource center at historic Bartram's Garden, the country's first botanical garden located in Philadelphia, PA. The farm came under community management in June 2016. For this project, Chris took on management of a 2 acre crop field, community garden, an orchard and an organic production greenhouse.
The Farm is run by year round high school interns who learn and teach farming, cooking and African Diaspora culture. Chris manages 2 weekly affordable farm markets and monthly community based cultural foodways and farming classes and volunteer days. While growing dozens of different standard market crops, The Farm at Bartram's has a special focus on growing and preserving seeds of traditional African American southern foods including crowder peas, Speckled brown butterbeans, several types of okra, fish and scorpion peppers, sorghum mustard, collard and turnip greens. Working with Ty, the farm team and Bartram's Garden, Chris strives to lift up the wisdom and experience of community members to connect Southwest Philadelphia to the resources needed for food sovereign, health empowered and self-determined neighborhood power.
Favorite quotes from this talk See all
"

Compassion is always a choice, it is always amongst a set of options that we have in any situation. — Chris Bolden-Newsome
"

My compassion doesn't have to be perfect, my compassion has to be intentional, it has to be genuine. — Chris Bolden-Newsome
"

There's this powerful, magical thing that happens when we engage in the spiritual activity of trying to share another's suffering. — Chris Bolden-Newsome
"

What it means to be compassionate is to be bold, and be brave and to actually step into—and shoulder—the burden with another person. — Chris Bolden-Newsome
"

And guess what? Most of your ancestors were farmers. — Chris Bolden-Newsome
116

Lovely Attendees






see everyone