Cas Holman
April 20, 8:30am - 10:00am EDT. Hosted at Japan Society
part of a series on Game
About the speaker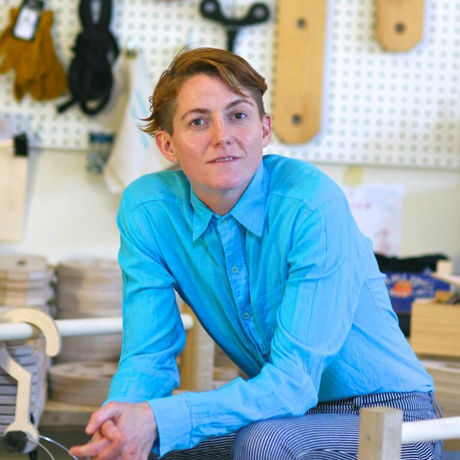 Cas Holman has spent the last 12 years immersed in play, early education, and designing for children's imagination. Through her company Heroes Will Rise, she designs and manufactures tools that allow children to transcend existing models of identity and the performance of play. These materials, including Rigamajig and Imagination Playground/Big Blue Blocks, are used in thousands of schools world wide, and inspire constructive play, imaginative forms, and cooperative interactions between people. Celebratory in their lack of adherence to traditional archetypes, these abstract yet endlessly interdependent pieces encourage children and adults to imagine the origin and story of the toy as well as how to use it. "What is it?" and "What does it do?" are answered via intuitive and individualized pathways such as physical details, play inquiries, and semiotic clues, making the instructions implicit in the tool/toy and the development of the design an essential element of the play experience.
She is an Associate Professor of Industrial Design at Rhode Island School of Design (RISD) and prototypes her playthings on her five-acre retired summer camp known as Camp Fun. Cas travels the globe to collaborate with thought and industry leaders in early education, curriculum design, public space, and childhood advocacy. Her inspiring brave collaborators and clients include Cheng Xueqin, founder of Anji Play (Anji, China), Friends of the High Line (NYC), the 14th St Y Preschool and Jewish Community Center (NYC), and Lego Education (DK).
Local partners
Additional details
HOSTED BY JAPAN SOCIETY
Thank you to Japan Society for hosting us this month! Japan Society presents sophisticated, topical and accessible experiences of Japanese art and culture, and facilitates the exchange of ideas, knowledge and innovation between the U.S. and Japan. Visit their website to learn more about their world-class exhibitions, dynamic performing arts, film retrospectives, family activities, language classes, high-profile talks, and more.
---
LIVE PERFORMANCE BY CAITLIN MAHONEY
Talented musician and friend of CreativeMornings, Caitlin Mahoney, will perform a song before Cas's talk. Take a listen to Caitlin's music beforehand here. You can also follow Caitlin on Twitter, Facebook and Instagram.
We're having a volunteer sign interpreter this month.
Reserved seats are available for anyone who is Deaf or hard of hearing. Email us to reserve a ticket.
About our interpreter: Canara Price volunteers in the deaf community as an interpreter for civil rights organizations, churches, and several schools and agencies. She is the founder and executive director of People's Theatre, Inc., a non-profit organization exposing under privileged communities to the performing arts. She has produced and/or directed over 40 productions with this company. She is also an award winning producer and director as well as a member of Black Deaf Advocates, the SAG/AFTRA, National Association of Black Journalists, Delta Sigma Theta Sorority, Inc., and the National Council of Negro Women.
Location
Hosted at Japan Society
333 East 47th Street
New York, New York 10017
When April 20, 2018
8:30am - 10:00am