Dr. Carly Howett
April 14, 8:30am - 10:00am MDT. Hosted at RMCAD Mary Harris Auditorium
part of a series on Beyond
About the speaker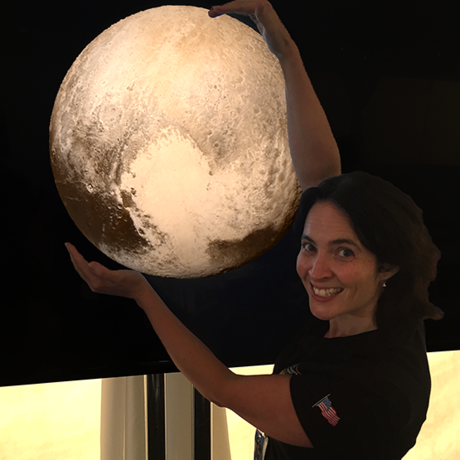 Dr. Carly Howett is a Senior Research Scientist at the Southwest Research Institute in Boulder Colorado. She obtained her Ph.D. at the University of Oxford in 2005, and has been working on New Horizons since 2012. Since then her main interest has been the calibration and image processing of data from New Horizon's Ralph instrument – the color "eyes" of the spacecraft. She is also on NASA's Cassini mission, which has been investigating the Saturn-system since 2004. Outside of work she enjoys all the forms of running, jumping and outdoor-stupidity Colorado has to offer, particularly cycling, skiing, swimming and climbing.
Local partners
RMCAD is an art school like no other. As a community of creatives, we're dedicated to the personal success of each of our students, whether they choose to pursue their studies on campus or online. Offering a unique combination of freedom and support, we help all of the artists and designers who enroll with us to find their voice, discover their own paths, and thrive as art and design professionals.
We're inventors and connectors. Technologists, designers, and strategists, all working together to create digital experiences that make an impact on people's work and life, for the better. We love designing for the humans behind the experience. It's what drives us.
General Assembly is a global education institution that specializes in the most in-demand skills across data, design, technology and business. GA Denver hosts events and offers courses, classes, workshops in subjects ranging from user experience design to android development to digital marketing to data science.
Additional details
So much of our universe has been or continues to be beyond our ability to easily study or comprehend. As a senior research scientist on the New Horizons team, Dr. Carly Howett studies the planet beyond all others in our solar system: Pluto. The images returned by the New Horizons satellite revolutionized our understanding of the Pluto system, transforming it from a demoted planet into an enticing ice world. This talk will focus on how she and her colleagues creatively solved the problem of studying a planet nearly beyond our solar system and brought it back from beyond our understanding.
Location