Carla Aaron-Lopez
November 6, 8:15am - 9:45am EST. Hosted at The November Zoom Room
part of a series on Radical
About the speaker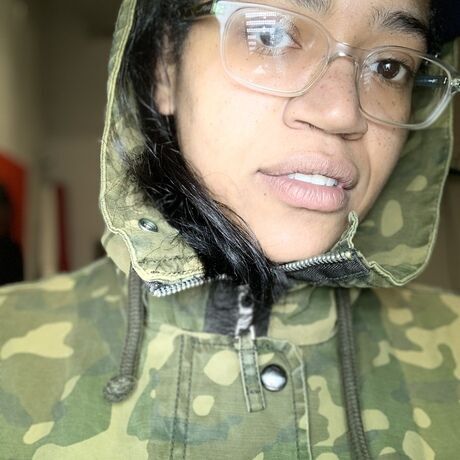 i am king carla. i am an artist, educator, mother and villain. i am goals. here are my goals as an artist: create multidisciplinary images that center around Blackness, create images that reverse the tables of power for women of color that are hypersexualized in popular culture and celebrate the natural language of the American Negro. since these are things that many folk in the world wish to control and correct, i wear the upside down crown of villainy because no one controls me and my people. i make art to communicate how i feel and what i see on a daily basis as an Black woman in America. it's not a role many are willing to fulfill. can you?
Carla Aaron-Lopez is an artist-educator from Charlotte, NC. After graduating North Carolina Central University in 2006 with a BA in Graphic Design, she moved to Atlanta to attend Savannah College of Art & Design. In 2009, she graduated with a MFA in Photography and in 2012, received a MA in Printmaking. In 2010, she began her teaching career at Fort Valley State University as an adjunct professor and has been a Charlotte-Mecklenburg Schools arts educator since 2014. She has experience in various creative fields from photojournalism to podcasting to arts exhibitions and continues to exhibit her personal works while teaching.
as a professional student of life, i believe students of all ages have the ability to learn anything and create anything. it's how we transfer that information to the learner, guide the learner through obstacles and relate to our neighbors that makes the hard work of education that much more fulfilling. every student deserves the chance to grow and glow.
Local partners
Location
Hosted at The November Zoom Room
Your Home Office
Charlotte, North Carolina United States 28202
When November 6, 2020
8:15am - 9:45am