nyc
What are FieldTrips?
FieldTrips are meetups to interact, learn and collaborate in an effort to level-up your creative life.
We're limiting these events to only 25 people, they're like an intimate dinner party. Your absence will be felt so please make sure that you can definitely attend if you sign up. Also, we're in the prototyping phase, so come with an open mind and be prepared for anything.
Thanks for participating! We're lucky to have you.
Breathwork + Vision Board Making with Hande Oynar
October 27, 11:00am - 12:30pm EDT. Hosted at Industry City (The Gallery space at The Landing)
About this FieldTrip
It's not just a breathing exercise, but an active meditation that completely relaxes your central nervous system, and allows you to let go of stress, clear your blocks and find inspiration. It's amazing how our brain responds to a little more oxygen!
After breathing, I'm going to guide you through a fun 15-minute meditation, and with the clarity gained from that meditation, we are going to make collages with cuttings from magazines that I will provide (and for variety, everyone can also bring a magazine that they like!).
In a total of 90 minutes, you will have relaxed, set some heart-felt goals for the last quarter of the year, and made an artwork that they can take home with.
Please bring extra magazines if you have them.
About Your Host:
I'm an art writer, journalist and editor. I've also been doing breathwork for over 6 years, and I've been a facilitator for the past two years. I completed my training with David Elliott this year. I've been holding group sessions for the Woom Center, Daya Yoga, Solid Gold Yogi and Jivamukti Yoga Center in NYC, and have worked with corporate clients such as WeWork and the Edition Hotels.
I want to teach breathwork to creative people because it's been a great source of inspiration for me, a life-changer. I practice daily to clear invisible roadblocks, anxiety and anything else that might be standing in my way.
–
FieldTrips are a celebration of creativity and generosity. They are hosted by awesome individuals and organizations (like you and yours)! When you sign up, please show up. Most FieldTrips have waitlists due to significant interest and limited space.
View all upcoming FieldTrips or submit an idea to host your own.
Local partners
Industry City is the perfect, authentic Brooklyn destination for an hour or a full day of activities. Experience an unparalleled arts and entertainment destination on the Brooklyn waterfront with live music and events, immersive art experiences, a vibrant bar and food scene, and shops featuring local artisans and makers. A 16 building, 6 million commercial square foot campus, Industry City is home to 500+ businesses and offers a dynamic environment for everyone from solo travelers to families, just 3 stops from Union Square.
Organizer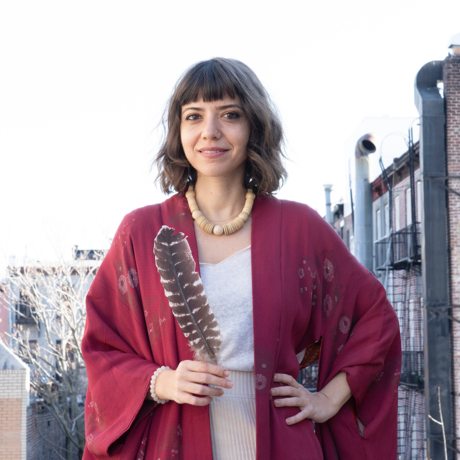 Hande Oynar
Location