Beverly Kim
August 28, 8:30am - 10:00am CDT.
part of a series on Stress
About the speaker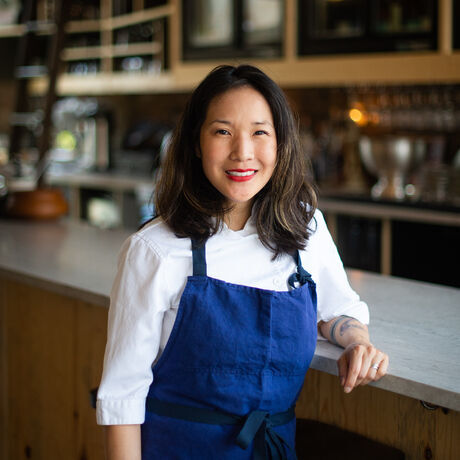 Beverly Kim has risen through the ranks of Chicago's restaurant scene to become one of the city's most acclaimed and recognized chefs.
Alongside her husband Johnny Clark, Kim is best known as chef and co-owner of Parachute, a restaurant in the Avondale neighborhood of Chicago that melds Western fine-dining techniques with Korean ingredients. Since opening in May 2014, Parachute has received a bevy of local and national accolades — "Best New Restaurant 2015" by the Chicago Tribune, "Restaurant of the Year 2014" by Eater Chicago, a spot on Bon Appetit's nationwide "Best New Restaurants" list in 2015, and a prestigious one-star rating from the Michelin Guide five years running. For their cuisine and service at Parachute, Kim and Clark shared a 2019 James Beard Foundation Award for Best Chef: Great Lakes.
Kim has had executive chef stints to her name including at Opera, and chef de cuisine at Aria in The Fairmont Hotel. She was the recipient of the 2016 Jean Banchet Award for Rising Chef of the Year, and garnered national attention for her fourth place finish on season nine of Bravo TV's Top Chef.
In July 2019, Kim and Clark opened their second restaurant, Wherewithall. There is no set menu here: Five nights a week, guests are served a multi-course, $65 meal where dishes change on a daily basis. The cuisine is boundaryless, improvisational, often surprising, and in the words of Chicago Tribune restaurant critic Phil Vettel: "intensely personal … exhilarating." Jeff Ruby at Chicago magazine wrote in his three-star review: "[Wherewithal is] neither flashy nor gimmicky, boldly finding its own way night after night through reinvention and ingenuity."
Kim is passionate about the quality of food at her children's schools. She serves on Chicago Public School's Culinary Chef Council, a coalition of local chefs who promote healthy and responsible eating among its 355,000 students. Kim has also led the charge against gender inequality in the restaurant industry; her advocacy for creating a level playing field for women in hospitality has been profiled in both Eater and the Chicago Tribune. Kim and Clark live with their three sons — Daewon, Hanul, and Bowie — in Chicago's Avondale neighborhood.
Follow Beverly Kim on Instagram @chefbeverlykim
Local partners
Additional details
📺 Tune in on Zoom
All registered attendees will receive two reminder emails with the information you need for Friday's event.
(Check your spam folder: Don't see an email from us closer to the event time? Please be sure to check your spam folder.)
When August 28, 2020
8:30am - 10:00am