Azisa Noor
– Hosted at Conclave Wijaya
part of a series on Magic
About the speaker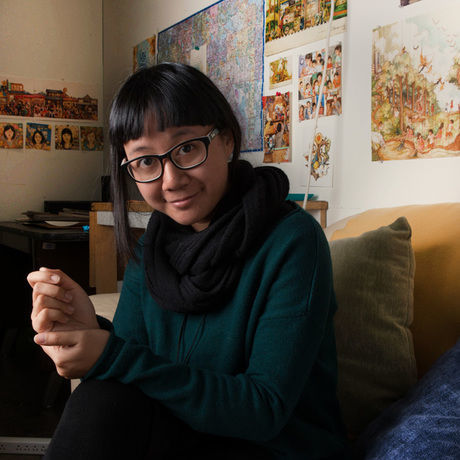 Azisa Noor is a Bandung-based comic artist, illustrator, and cellist. Raised on bedtime stories and wooden building blocks by her parents, Azisa grew up to pursue both by studying Architecture in ITB and being an active busybody for the then fledgling local comic community. After she graduated, she published several comics like the Satu Atap series, Mantra, and Mentari, and started the annual event pasar komik Bandung with the Komikara comic community. She then received a Fullbright scholarship and went on to live her dreams of actually studying comics in a two-years stint at the Minneapolis College of Art and Design, where she found many new stories to tell and listen to.
Azisa now works from her home studio in Bandung and together with the comic initiative Archfriend comics, working on illustrations and her ongoing comic Kalasandhi. Take a peek at her stories and share your own at www.azisanoor.com.
Azisa on Magic:
Magic is all around us, or at least that's what I'd like to think and tell people whenever I get the chance. It might be because I make up stories for a living, but probably because it's exactly through stories of magical happenings and unusual occurrences that I learned about life - From the bedtime stories and fairy tales that I read as a kid.
Now that I'm all grown up, I believe that we as adults still need our fairy tales. As our ways and perceptions become more biased and inflexible, sometimes it takes a bit of magical narrative to make us see something in a completely new and different perspective. Using the urban fantasy genre as a jumping-off platform, we're going to talk and share between us what magical narratives we can pull and embody from our seemingly mundane everyday jobs.
Local partners
Additional details
Magic is about adding layers of wonder and surprise in our lives. Whether it's the magic of a workplace, a show, performance, or one of those moments with great customer support, it awakens our senses and makes us pay attention to the world, encouraging us to appreciate details that are elusive in everyday life.
As the British author, Roald Dahl once said, "Watch with glittering eyes the whole world around you because the greatest secrets are always hidden in the most unlikely places. Those who don't believe in magic will never find it."
This theme was chosen by CreativeMornings Porto chapter and illustrated by Marta Madureira. Ours is a community that invites magical experiences and ideas with open arms, and together in 150+ cities, we will explore the topic of #CMmagic with glittering eyes.
Location
Hosted at Conclave Wijaya
Jl. Wijaya I No. 5C, Petogogan, Kebayoran Baru
Jakarta, DKI Jakarta Indonesia 12170
When
–