Audience Takes The Stage 2018
March 23, 8:30am - 10:00am EDT. Hosted at The Music Hall Loft
part of a series on Courage
About the speaker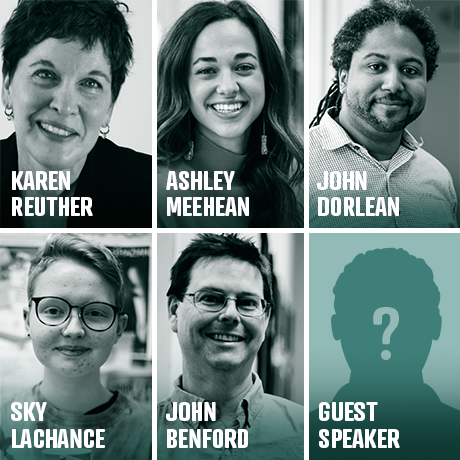 Our second annual Audience Takes The Stage!
Instead of our usual monthly speaker in March, six speakers from the PKX community will get five minutes exactly on the topic of Courage.
Karen Reuther- Former global creative director for Nike asks the question, "Do you have the courage to leave your dream job?"
Ashley Meehean - A young, local creative will talk about taking a leap of faith that turns into a positive and transformative life experience.
John Dorlean - Local creative director at KOI VFX will show us how he stepped out of his creative comfort zone for a client project.
Skyler Lachance - Our first-ever teen speaker shares her struggles and triumphs with a lifestyle change that her family opposed.
John Benford - A local photographer is inspired by an unlikely source and decides to trust in the universe to make a life changing decision.
Cliff Jumper - Our first ever true mystery speaker, even to us! This local person who calls herself Cliff Jumper, is going to quit her job live on the CreativeMornings stage. Will she have the courage to go through with it?
Local partners
Additional details
This event is free, but advance registration is required. Register Now notifications will be sent out prior to the event. Please sign up for our newsletter and follow us on social media to be notified when registration is open.
The event is held at The Music Hall LOFT. Doors open at 8:30. Breakfast will be served 8:30-9am. Talk begins at 9am and event ends at 10am. There is abundant paid parking behind the Music Hall Loft and on surrounding side streets.
CreativeMornings Portsmouth - PKX is a platform for individuals to share their own truths/stories as they define it. The viewpoints and opinions expressed by any individual do not represent or reflect larger viewpoints or opinions by the CreativeMornings organization or any local chapter and not should be taken as universal truths or professional advice of any kind.
Location
Hosted at The Music Hall Loft
131 Congress St
Portsmouth, NH 03801
When March 23, 2018
8:30am - 10:00am