Anne Marie Hertl
March 29, 8:30am - 10:00am EDT. Hosted at UICA
part of a series on Water
About the speaker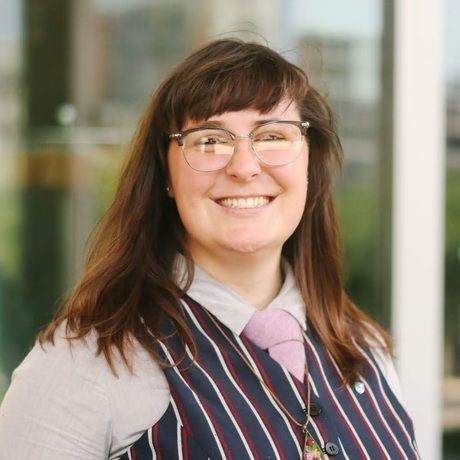 Anne Marie began working with Michigan League of Conservation Voters during the spring of 2017 as the West Michigan Regional Coordinator bringing her leadership and passion to engagement and organizing efforts in the West Michigan region making Michigan's land, air, and water a political priority.
In her role at Michigan LCV, Anne Marie manages leadership development programs, supports members and partners to participate in democracy, and managed a state-wide field program during the 2018 election in Michigan to elect candidates who care about our environment.
Prior to joining the Michigan LCV, Anne Marie served as the Community Activism Manager at the West Michigan Environmental Action Council where she led diversity, equity, and inclusion initiatives and community engagement programs. In 2017, Hertl was selected as a National Equity Project Leading for Equity Fellow, a graduate of the Racial Equity in Action Leadership (REAL) Center, and is on the leadership team of the Greater-Grand Rapids Racial Equity Network.
She graduated with a Bachelor's Degree in Political Science and Community Leadership from Aquinas College. Anne Marie grew up near Cleveland, Ohio and has lived in Grand Rapids for ten years.
Additional details
Join us at the UICA on Friday, March 29 for a creative perspective on one of our most important lifelines: Water! Not only will we have our usual daily dose of caffeine from Ferris coffee and free breakfast, but you will also have FULL access to UICA's newest exhibit, "Warm Water: New Works by Charles Edward Williams," a collection of re-narrated visual works based on the event that sparked the Chicago Race Riot of 1919.
Warm Water references the human state during the riots, as well as the paralleled combination of chemical/water properties when hot and cold elements are combined.
Come hear our inspiring talk on water and browse the gallery! We hope to see you there.
Location
Hosted at UICA
2 West Fulton
Grand Rapids, Michigan 49503
When March 29, 2019
8:30am - 10:00am