Anel Flores
March 29, 8:30am - 10:00am CDT. Hosted at Confluence Park
part of a series on Water
About the speaker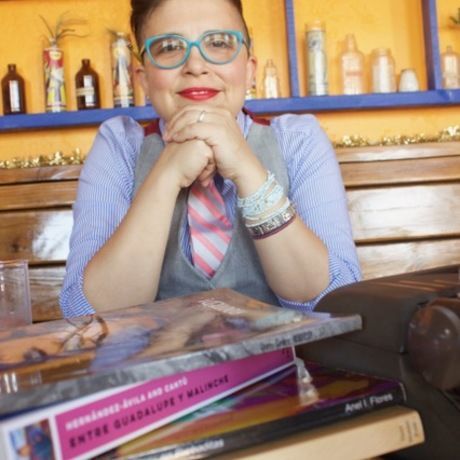 Anel I. Flores was awarded Women's Advocate of the Year 2018 from University of Texas San Antonio and the Nebrija Creadores Award from the Universidad de Alcala de Henares in Madrid, Spain. Flores was named Best Of San Antonio Local Author 2017, the Chingona in Literature Award 2016, the Ancinas Award at Squaw Valley, the NALAC Fund for the Arts Award, the Accion Women Inspiring Women Award, the Yellow Rose of Texas Educator Award, and the Mentorship Leadership Award from the National Performance Network.
She is co-editor of forthcoming Jota Anthology with Korima Press and author of Lambda literary award nominated book Empanada: A Lesbiana Story en Probaditas. Flores holds her MFA in Creative Writing, is a member of the Macondo Writer's Workshop, the Society for the Study of Gloria Anzaldua and the National Association of Latina/os in Arts and Culture. Among various anthologies and magazines, Flores' work can be found in Entre Guadalupe y Malinche: Tejanas in Literature and Art with UT Press, The Jota Anthology, Queer Spiritualities, Rooted: A Queer Women of Color Anthology, El Mundo Zurdo Anthology, The Brillantina Project, Sinister Wisdom This City Is A Poem, Raspa Magazine, OutInSA Magazine, iungo Arts Magazine, the Lodestar Quarterly, The Pitkin Literary Review and La Voz de Esperanza.
Her play Empanada toured for 10 years throughout the University and Theater circuit and continues to be produced today. She is currently in the process of completing her forthcoming book, Cortinas de Lluvia, a series of Children's books and a graphic memoir titled, Pintada de Rojo. Her teaching career includes 11 years of public high school and college, along with 4 years in Education Arts Administration, and various community literary workshops.
While not working in the arts, Flores uses her creativity and skill to run her boutique real estate company A&N Realty and contributes to her community as the Co-Founder LezRideSA, Liason at San Antonio Mayor's LGBTQIA TaskForce and a Board Member at Macondo Writer's Workshop. She is lovingly supported by her familia, wife Erika Casasola and their hijas, Jessica y Klarissa.
Local partners
Estate Coffee Company is a small batch, craft coffee roaster and espresso bar in downtown San Antonio, Texas. We believe in sourcing the best coffee and ingredients for our beverages by working with family-owned importers and local food purveyors. We try to promote transparency by having the roasting and brewing methods front and center in our 1,200 square foot space with seating for you to watch and feel involved with the coffee roasting process.
TEKsystems supports interactive, creative and digital initiatives for clients ranging from digital agencies to Fortune 3000 companies by supplying skilled design, development, functional and marketing technology resources and solutions. As TEKsystems, we thrive at the intersection of technology and marketing thru providing resource-based solutions in the Digital, Creative, and Interactive space. Our San Antonio team specializes in providing local solutions with the backing of a national footprint ranging between web/mobile development, design, content strategy, and marketing technologies.
Additional details
Parking is limited, share a ride with a friend, take public transportation or bike (especially if it's beautiful)! There are 35 parking spaces on site at the park, including 2 accessible parking spaces. Additional nearby, free, public parking options are available at Concepcion Park and the Bexar County Juvenile offices. These options are within a walkable distance to the park. Parking maps available here and here
Location
Hosted at Confluence Park
310 W Mitchell Street
San Antonio, Texas United States 78204
When March 29, 2019
8:30am - 10:00am